Tourists Spend GEL 1.9 Billion in Q 2 in Georgia
By Tea Mariamidze
Wednesday, August 15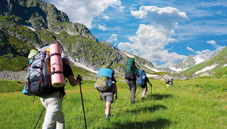 The National Statistics Office of Georgia (Geostat) has released Inbound Tourism Statistics for Q2 2018, which reads that in the second quarter of 2018, 2 million foreign citizens entered Georgia and they spent GEL 1.9 Billion, a 31.5 percent increase compared to the same quarter of 2017.
As for the average expenditure per visit, it totaled 1,144 GEL (15.5% increase). The travelers spent most of their money on accommodation - 424m GEL, followed by holiday, leisure, recreation, cultural and sporting activities – 354m GEL, food and drinks – 518m GEL, shopping – 297.8 million GEL, local transport – 129.7m GEL, consumer durable goods – 149.6m GEL, valuable goods – 6m GEL and other expenditures – 41.3m GEL.
Geostat says that out of total 2 million visits, 1.7 million were visits made by international visitors, which is 13.8 % increase compared to the same quarter of the 2017 year.
In II quarter, 2018 the number of inbound visitors in Georgia was 1.3 million, which is 15.7 percent increase compared to the same quarter of the previous year.
In the second quarter of 2018, the largest number of visitors - 276.6 thousand – arrived in Georgia from the Russian Federation, which accounts for 20.6 percent of total visitors, followed by Azerbaijan and Turkey.
The majority of travelers were aged 31-50 (891,000 people), while the rest were the elderly (34,300 people).
The main reasons for visiting Georgia in Q 2 2018 are: Holiday, Leisure, Recreation – 738,400 travelers (44%), Visiting friends/relatives – 345,200 people (20.6%), transit to other country – 286,100 travelers (17%), business or professional visits– 122,500 people (7.3%), shopping - 105,400 visitors (6.3%), Health and medical care – 48,600 travelers (2.9%) and other reasons– 32,200 people (1.9%).
Regarding gender, more men (827,100) traveled in Georgia than women (518,400) in Q2 of 2018.
Most popular places visited by travelers in Georgia in Q2, 2018 are Tbilisi – 35%, Adjara – 18%, Mtskheta-Mtianeti – 15%, Kvemo Kartli – 12% and Kakheti – 7%.