Gov't Announces New Customs Code Next Week
By Gvantsa Gabekhadze
Friday, September 7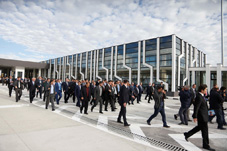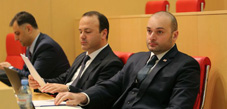 The government of Georgia will present the draft of the country's new customs code, which will offer all customs' services electronically, next week, Georgian PM Mamuka Bakhtadze stated on Thursday. He said that the current customs code "failed" to respond to challenges and there was a need of having the European-standard customs code.
"The draft for the code was elaborated with European experts," Bakhtadze said.
He stated that the code would mainly benefit the private sector, saving their time and money.
"The new customs code will play as a big stimulus for attracting of European investments and will support the integration process of Georgian businesses on the European market," Bakhtadze said.
During the same press briefing, Bakhtadze called upon the Georgian businesses to benefit from the government-initiated project merely returning VAT.
He said that the government has already returned 280 million GEL as VAT and intended to return almost half-billion this year.
When Bakhtadze served as a finance minister, in January 2018 a system was activated through which entrepreneurs became able to receive VAT returns in 5-7 business days by filling out an electronic application.
PM said that many businesspeople were "skeptical" about the new system due to the bad experience suffered under the United National Movement leadership.
He claimed that the Georgian Dream ruling team project is "absolutely business-friendly."
The United National Movement opposition says that the Georgian Dream leadership is unable to settle the country's economic problems and accuse them of making the country population extremely poor.