PM on Iberia Case: Owning TV Does Not Mean Avoiding Taxes
By Tea Mariamidze
Thursday, September 13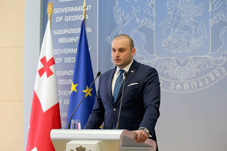 Georgian Prime Minister, Mamuka Bakhtadze says that if a company has a TV station, it does not mean they can avoid paying taxes.
The PM made a comment on September 12, after the governmental session, while commenting on the recent developments around Iberia TV and the statement of the journalists about the alleged pressure from the state on the TV Company.
Bakhtadze explained that tobacco producer company Omega, which is the main financial donor of Iberia TV, has GEL 51 million debt for not paying taxes to the state budget.
"The Revenue Service of the Ministry of Finance, as I remember, delayed sanctions for this company 11 times, but we saw an even more negative trend. In recent months, the organization has further increased the debt," he explained.
According to the PM, every enterprise or company, which creates jobs in the country, is important for the government but added that the company Omega has to pay its taxes and the excise fee.
"No one is untouchable in Georgia, and the relevant authorities will take the proper steps that will be implemented in accordance with our legislation," Bakhtadze said.
Journalists of Georgia's Iberia TV speak of the pressure from the government through creating financial problems for Omega Group Company.
The journalists say the current situation indicates there is an unhealthy media environment in the country, adding it affects the interest of the public, especially in the pre-election period when citizens are in the process of making important political decisions.
Moreover, the journalists of Iberia held a protest rally and marched to the governmental administration. They say the authorities want the TV Company to suspend operation.
Iberia TV also spoke about pressure and financial problems in February 2018. The TV Company claimed that the Omega Group was "under serious financial hardship" and urged the authorities to "prevent illegal actions against the company."