Karasin: Russia Disappointed by Georgian PM's statements
Tuesday, October 2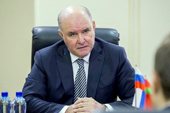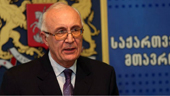 Russian Deputy Foreign Minister Grigory Karasin stated in Prague on Monday that the Russian leadership is "disappointed and upset" by the statements of Georgian Prime Minister Mamuka Bakhtadze in UN, where the latter urged the withdrawal of Russian occupation forces from the Georgian territory.
Karasin, whose country occupies 20 percent of historic Georgian territories, says that such "hostile statements" by Bakhtadze will not help the normalization of relations between Georgia and Russia in the wake of the Russia-Georgia 2008 war.
The deputy FM also criticized the Tatunashvili-Otkhozoria list approved by the Georgian parliament, including the people who have violated the rights of Georgian citizens in the occupied regions, and said that the list may become the precondition for the disruption of the incident prevention meetings between Georgian government members and the representatives of the occupied territories.
He said that it is time Georgia to "acknowledge the reality" and recognize Abkhazia and South Ossetia as independent republics.
Karasin said that Georgia and Russia have room to further enhance trade-economic ties and mentioned the pre-election campaign in Georgia.
"We hope that the pre-election campaign will not be anti-Russian. Winning of the candidate in the Georgian presidential elections will be acceptable for us, who will be acceptable by Georgian voters," Karasin stated after his meeting with Georgian special envoy to Russia Zurab Abashidze.
Abashidze for his part stated that Bakhtadze made "very right messengers," from the UN tribune and said that this year trade turnover between Georgia and Russia is more than 1 billion USD.
The so-called Abashidze-Karasin meetings format was launched in late 2012, under the Georgian Dream leadership, and covers only humanitarian, trade and economic issues. In its essence, the format does not touch upon politics.