Leave Parliament in Kutaisi
By Levan Khutsishvili
Thursday, October 4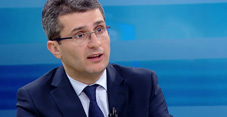 On October 3, civil society in Kutaisi started a social campaign and announcing the demonstrations to protest the initiative of Georgian government about moving the parliament from Kutaisi back to Tbilisi. Citizens of Kutaisi involved in campaign "Leave Parliament in Kutaisi" say that if the legislative body is moved from Kutaisi, the city will lose its status and a chance of future development.
The government and the parliamentary majority supports the initiative. Once it's approved, the parliament building in Kutaisi will be handed to the Ministry of Internal Affairs, where several subunits of ministry, including Police Academy and Information Center – 112 will be located.
As politicians from the ruling Georgian Dream think, parliament has not positively influenced the economic condition of residents of Kutaisi and besides, it weakens the legislative body.
"In his time, Mikheil Saakashvili decided to move parliament in Kutaisi in order to weaken the parliament. We think about strengthening the parliament, so it is a logical decision to have government and the parliament in one city. You cannot find a precedent when these two branches of government are scattered in different cities, which in practice creates problems in many ways," said Mamuka Mdinaradze, head of the faction Georgian Dream.
Majoritarian MP of Kutaisi Genadi Margvelashvili does not agree with the decision of the government and thinks that the legislative body should stay in Kutaisi, adding the city deserves more attention.
"I do not agree with the transfer of the parliament principally, but I remain as a member of the team. Kutaisi deserves more attention and hopefully, the city will get an alternative project. If the parliament will move, the population needs another alternative project," said Margvelashvili.
Politicians from opposition parties believe that the initiative will burden economic conditions of residents that have income because of the parliament. The local civil society is against the initiative as well. "Society Kutaiseli" protested the amendment on September 24 and is about to start demonstrations.