National Movement in the Government of Georgian Dream
By Levan Khutsishvili
Monday, October 8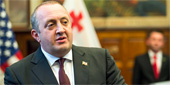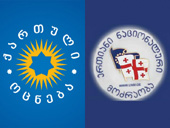 On October 5, President of Georgia Giorgi Margvelashvili gave a speech on the event organized by the Georgian Lawyers Association and criticized Government for giving leading positions to the people who were affiliated with the Government of Mikheil Saakashvili.
"History remembers several cases, but when you are speaking about "nine years of blood" and terrible regime, and at the same time you are helping the career of the people who actually were creating that nightmare, of course, unclear emotions in society and feeling of uncertainty reside," – said President of Georgia.
According to the president, he was expecting that Georgian Dream and the new government will finish violence and create a better system, but it did not happen.
"I was expecting that our political team, which changed the National Movement's mostly violent governance, would change the processes by finishing violence and injustice and create a precedent of better governance when society overcomes the pains of past and builds better future.
There were ideas and opinions on how to go ahead and those ideas came not only from the Georgian Dream but also from the society, but, unfortunately, none of those concepts were left to go forward. It happened that we preserved our pain and tragedy and it is worrying. However, it is more worrying that when this issue has been politically powered at high temperatures over 6 years, we are constantly speaking about how National Movement is a big evil that we left in history, and at the same time, those who have been executioners of the National Movement regime continue to have career advancement. And those two things are happening simultaneously. On the one hand, Georgian Dream and its government talks about how terrible the nine years were and on the other hand gives good jobs to the people who created that regime", said Giorgi Margvelashvili.
It is the last month for Margvelashvili as President of Georgia. He said that in fact, even persecution of the people related with the regime of National Movement would be better than what is happening now, though he added that personally, he is not supporting anyone's persecution, but that the political dissonance should be ended.
"Everything would be better than that. Even, it would be better to persecute them and forget this topic. But the reality is different, for several years we are pointing at them and at the same time have better positions in government; already the several Pleiades have been replaced, and now the Adeishvili-Kezerashvili's loyal staff are standing on political platforms and are trying to frighten society, as it was at the time of the "National Movement". This dissonance should be ended. I have never been a proponent of any kind of persecution. But, I don't understand what we are trying to achieve, by creating this kind of political disorder, " said Margvelashvili.