Georgian PM Opens Trading at London Stock Exchange
By Gvantsa Gabekhadze
Monday, October 15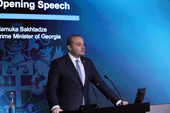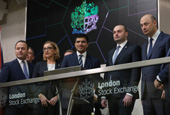 Mamuka Bakhtadze, Prime Minister of Georgia, opened the trading at London Stock Exchange last Friday.
He was greeted by Nikhil Rathi, Chief Executive Officer of the London Stock Exchange.
Bakhtadze said that large investors from all over the world are concentrated at the London Stock Exchange and it is a significant opportunity for them to get exposed to detailed information on the investment climate and reforms implemented in Georgia.
"It was an opportunity for us to share information with investors on the reforms implemented in Georgia and ambitious plans that we have towards transforming Georgia into a regional hub.
"There is a great interest in investing in the country and it will enable us to see shares of more Georgian companies traded at the London Stock Exchange. Our key goal is to integrate the country more effectively into the global economy," he said.
Rathi spoke about the cooperation with Georgian companies.
"We are honored to host Mamuka Bakhtadze, Prime Minister of Georgia. It started green, which means that prices on shares are going up. London Stock Exchange has a long history of successful cooperation with Georgian companies. For instance, Bank of Georgia JSC is listed in our premium segment. Its shares are performing very well.
"We trade with shares of smaller Georgian companies as well. I believe that this partnership demonstrates that global markets are concentrated in London and are excited with opportunities existing in Georgia and its economic growth prospects. It is a country with 5 percent economic growth, low tax rates, low debt level, highly skilled population and a strong focus on renewable energy," he said.
The conference - Georgia - Day of Investors was held at the London Stock Exchange that day.
Galt & Taggart organized the occasion and 130 large investment companies attended it.
The Georgian opposition says that the state economy is the major challenge for the Georgian Dream government and they believe that the ruling team has no resources to improve the current economic situation in the country.
The United National Movement and the European Georgia opposition say that the outcome lies only in the change of authorities.