Rustavi 2 Releases Audio Recordings in Which ex-Official Threatens the Gov't
By Tea Mariamidze
Tuesday, October 16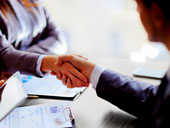 The opposition-minded Rustavi 2 TV channel released audio recordings on Sunday in which currently detained former official of the Chief Prosecutor's Office Mirza Subeliani says that he has compromising materials against the Georgian Dream leadership which he may use if needed.
Subeliani was detained in June this year for not reporting the murder case of teenage boys in central Tbilisi on 1 December.
The case is also known as the high-profile Khorava Street murder case when two 16-year-old boys were stabbed by other teenagers in a school brawl.
The court sentenced one of the detained minors for the murder of one of the killed boys Levan Dadunashvili, while the court failed to say who killed another boy David Saralidze.
David Saralidze's father Zaza Saralidze had stated that Subeliani created obstacles for the fair investigation into the case, and stated it was Subeliani's relative Mikheil Kalandia "who killed his son and who still walks free."
Subeliani was detained on 9 June 2018 and he admitted only that he did not report the crime.
In the recordings, Subeliani allegedly speaks with two representatives of the Georgian Dream ruling party and says that he is disappointed with the government's actions towards him when the Georgian Dream "owes" him.
In the recordings, Subeliani mentions several high profile cases and says how he tortured people to make them confess.
Subeliani also says that minors who were involved in the Khorava street case were beaten during the interrogation.
The parliamentary opposition called the recordings "alarming" as it "includes the signs of the systemic crime".
The Georgian Chief Prosecutor's Office said that they launched the investigation regarding the recordings on 12 October, before they would be released by the TV.
The Office said that an employee of the Ministry of Corrections addressed them with the recordings.
"The individual told us that an unidentified person handed him the recordings and threatened him to release them, otherwise he would make his personal life videos available to the public," the Prosecutor's Office said.
The office says that they have more audio recordings than the TV channel released.
"The recordings need to be checked whether they are authentic. Based on the initial analyses of the recordings the investigation is actively discussing the version of staging the recordings by a group for their following release," the Prosecutor's Office says.
Zaza Saralidze said that the recordings "proved" that his demands to the government were fair.
"I urge the Interior Ministry to detain Kalandia. It will be the only right step in the situation when the government is fully in the mud," Saralidze said.
Head of the Transparency International Georgia Eka Gigauri says that the ruling party is in the "serious crisis" and the crisis is becoming more and complicated in the situation when the government is trying to ignore the problems.
Members of the Georgian Dream say that the audio recordings could be staged and are "waiting for the results of the investigation."