Budget Allocated for Education
By Levan Khutsishvili
Tuesday, October 16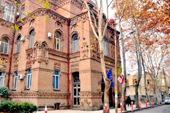 On October 15, Imedinews spread the information that in 2019 education reform will be one of the main priorities for the Government of Georgia and budget of the Ministry of Education, Science, Culture and Sports will be increased and Ministry will have to spend 1 Billion 485 million GEL of different programs and projects.
According to the existing project of the budget, the ministry will continue free textbooks project, for which 18 million GEL will be allocated in 2019. Also, there will be an extended program that provides students with transportation and 22 million 500 thousand GEL will be spent on it. The state plans to transfer the first-grade pupils' netbooks in 2019 and will fund this program with 25 million 120 thousand GEL.
According to the project, on pre-school and general education will be spent more than 738 million GEL. From this, the state plans to spend 90 million for infrastructure development of general education institutions. 4 million GEL will be provided for the development of the public schools' operation and maintenance system. 730 thousand GEL is allocated for the encouragement of successful. As for the professional development of the teachers, the total amount is 11 million 755 thousand GEL.
According to the main financial document of the country, 168 million GEL should be spent on higher education. Organizing of the exams will be financed by 11 million 900 thousand GEL. 135 million 185 thousand GEL will be allocated for the state education, master grants and youth encouragement. For the promotion of science and scientific research, 65 million 470 thousand GEL will be spent from the budget. As for professional education, this sphere will be financed by 48 million 690 thousand GEL in 2019.
According to the new budget project, education seems to be the priority for the country in 2019, as the budget allocated for the ministry will be much larger than that of the Ministry of Defense (790 million GEL).
"Educational process will be oriented on an education recipient (child, youngster, adolescent and adolescent willing to take education), and will ensure the protection of the principle of Lifelong Learning (LLL). Educational institutions will be offered a safe, free and well-equipped learning environment. Development of educational infrastructure for all stages of education will be ensured. Full rehabilitation of educational institutions and the creation of Natural Science Laboratories will continue within the Millennium Challenge Compact. In the frame of the program funded by the European Union and the Council of Europe, will be started the works aiming increase energy efficiency of schools"- is written in the draft project of the Budget 2019.
The project is already in parliament for discussion and some changes will be made, but the fact that Ministry of Education, Science, Culture and Sports will have increased budget is promising but unfortunately, science is again the less prioritized sphere, as just 66 million GEL will be spent on it.