Justice Ministry Launches Marriage Registration New Standards
By Tea Mariamidze
Tuesday, November 6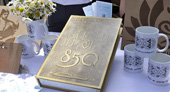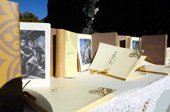 Justice Ministry of Georgia is establishing new standards of the registration of marriage at the wedding houses, which means that the ministry will gift a special edition of the iconic Georgian poem by Shota Rustaveli – The Knight in the Panther's Skin, to all couples who register their marriage.
The initiative belongs to the Justice Minister Thea Tsulukiani. On May 8, the ministry announced tender for printing the books.
On July 10, 2018, the winner of the tender was revealed and the state will pay GEL 89,460 from the budget to get 4,500 books.
In addition to books, the ministry says that special uniforms will be used by the staff of the marriage houses to make ceremonies more special.
The Knight in the Panther's Skin is a Georgian medieval epic poem, written in the 12th century by Georgia's national poet Shota Rustaveli.
A definitive work of the Georgian Golden Age, the poem consists of over 1600 Rustaveli Quatrains and is considered to be a "masterpiece of the Georgian literature".
The poem is regarded as the "coronation of thought, the poetic and philosophical art of medieval Georgia", a complex work with rich and transcending genres. It has been described as "epic", "chivalric romance", "epic romance" and "epic poem of lyric poetry." Despite its formal complexity, it bears to this day "the Georgian vision of the world.
Until the early 20th century, a copy of this poem was part of the dowry of any bride. The initiative of the Ministry of Justice aims at bringing this tradition back.