New System of Financing Self-Governments
By Levan Khutsishvili
Friday, November 16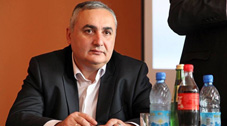 The government of Georgia has initiated the new rule of financing self-governments. According to the initiative, beginning 2019, instead of equalizing transfer and income taxes, 19% of additional value tax (VAT) received in self-governments will stay in local budgets. According to the Ministry of Finance, the new system will raise finances for municipalities, as it's written in the draft project of budget 2019, the existing system will finance the municipalities (income tax and equalization transfer) with 900,6 million GEL (except municipalities in the occupied territories), which is 61.9 million GEL more than in 2018. According to the new system of financing, the municipalities will get 946.6 million GEL, which is 107.9 million GEL more than in 2018 and 46,0 million more than it could be with the previous system. But the fact is that 50.01% from 19% of VAT will stay in Tbilisi, 4 self-governed cities will get – 11.19%, and rest - 58 municipalities will receive 38.8%.
As the representatives of the coalition for "Self-Government and Democracy" believe new initiative will collapse the financial decentralization system in Georgia and will hang municipalities on central budget which means they cannot increase their income, because the municipalities only pay the property tax and the whole municipal services will need to be financed from the central budget.
"We offer alternatives. Set up a system where the municipality will be interested in making economic policy to increase its revenues and slowly drop from the central budget. Moreover, in a few years, the majority of municipalities become self-sufficient. For this, it is necessary that the income tax remains in the local budget, because in the current situation if the investments are made in the municipality, the property tax only remains on spot. If the income tax for individuals will remain in place, each newly created job will be included in the local budget. The more people will be employed, the more money will enter in local budget and the more projects will be implemented." – said Irakli Melashvili, member of the coalition for "Self-government and Democracy".
As coalition thinks only income tax will not be enough for local budgets and financial independence, they believe and offer Ministry of Finance to give property, land and natural resources to municipalities in ownership.
The fact is that without financial independence it is almost impossible to development municipalities, and the previous system was mostly failing in it. The increased budget for 2019, the total amount of money for municipalities, is raised, the issue at stake is how will it be distributed among municipalities.