Elections on Wednesday
By Levan Khutsishvili
Monday, November 19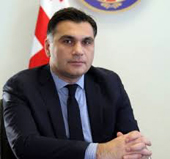 Former deputy secretary of the Security Council, International Law Specialist Levan Botzashvili initiated to determine the election date by the constitution.
According to Botzashvili, election date in many countries is determined by the legislation and not by political officials.
"For example, election dates in the United States and many other countries is predetermined. For 25 years it has never been possible for the officials to set an election date. This should be written in the constitution. For example, according to the US constitution, this date is the first Tuesday of November. Political subjects always know in advance when the next election will be. In Georgia, the norm related to the second round could be defined by the law or another legal method, but since it has not been done yet, we now have nothing else to do but obey the decision of Central Election commission, whether we like it or not, "said Levan Botzashvili.
The second round of the presidential election was scheduled for November 28, Wednesday. According to the CEC decision, Georgian citizens living abroad will be able to make their choice for the second round of the 2018 presidential election until 12:00 pm. The decision is based on the fact that the second round of the elections is being held on a working day, which may be a hindrance for Georgian citizens living abroad.
According to the law, Central Election Commission had a month after the first round to set the second tour. Levan Botzashvili says that it could be a hindrance for immigrants and the problem could have been avoided.
"Setting elections on a Wednesday might cause problems to Georgian citizens living abroad; it may be difficult for them to participate in the elections. In order to deal with these problems either for this election or in the future, my initiative was youth blockchain system for elections, people would vote without leaving the house and their votes would be protected, " – said Levan Botzashvili.
Some believe the date was set on purpose in order to cause a low activity. There is a high chance that Salome Zurabishvili will lose this round as well, as most of the opposition parties are supporting Grigol Vashadze. The results from the foreign countries show that Salome Zurabishvili lost the first round with Grigol Vashadze, with Vashadze 52,27% and Salome Zurabishvili 22,49%. It may seem that Georgian Dream does not want citizens of Georgia living abroad to go to elections, as the possibility to lose again is high.
As long as the government is in power to set an election date, the right can be used as a tool against its political opponents.