US Gifts Laser Devices to Georgia To Prevent Traffic Accidents
By Gvantsa Gabekhadze
Tuesday, November 20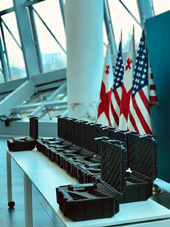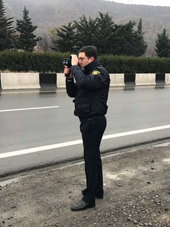 The Bureau of Intl Narcotics and Law Enforcement (INL) of the US Department of State has gifted LiDAR laser technology to the Georgian Patrol Police to prevent traffic accidents in the country, as speeding is the major cause of road accidents.
"INL is pleased to provide laser technology to help the Patrol Police save lives and reduce accidents by enforcing the speed limit," the US Embassy in Georgia reported.
The devices are designed to automate the entire process of speed detection, driver identification, vehicle identification and documentation.
In the first three months of 2018, 107 people died in traffic accidents in Georgia. The figure in the last year was 104.
The Georgian National Statistics Bureau says that 1,428 traffic accidents took place over the period of a year with 1,986 people injured.
In the first three months of 2017, 1,392 traffic accidents were registered with 1,787 people injured.
In 2016- 581 people died and 9,951 were injured in 6,939 car accidents in Georgia.
In 2015 - 6,432 accidents were registered with 9,187 injured; 11 percent of the cases were fatal.
In 2014 - 5,992 car accidents took place with 9,187 people injured; 12 percent of the cases were fatal.
In 2013 - 5,510 car accidents, with 8,536 injured out of which 12 percent were fatal.