Donations of public movements for Zurabishvili
Tuesday, November 20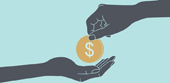 The period after the first round of the presidential elections has seen the emergence of several presumably informal movements which have held various public political events. These organizations include 'I Defend Freedom', 'No to Misha, No to UNM', 'No to Nazism', etc.
The events held by these organizations are also important from the standpoint of electoral legislation because the activities of these groups evidently contain campaigning in favor of one presidential candidate and against another, for which certain amounts of money are presumably spent.
These activities might constitute donation for the benefit of Salome Zurabishvili, which should be identified and registered by the State Audit Office. These cases will be discussed in more detail below.
The public movement 'I Defend Freedom' holds meetings with the population across the country, which aims to campaign against the United National Movement (UNM) and to support Salome Zurabishvili.
The organization is also opening offices in the regions. This movement organized a canvassing meeting on Rustaveli Avenue and in Rustaveli Theatre on November 7.
Public movement 'No to Misha, No to UNM' has opened two offices in Kutaisi. One more movement, 'No to Nazism', is planning to provide transportation from Tbilisi to the regions for those voters who cannot afford it themselves. According to a representative of this organization, this activity aims to prevent the UNM from returning to power. This movement has opened an office on Rustaveli Avenue in Tbilisi.
The activities of the aforementioned public movements make it obvious that they support presidential candidate Salome Zurabishvili and are spending financial resources for this purpose, which, according to the Georgian legislation, constitutes the electoral donation.
This means that these donations must be declared in accordance with law, they must not exceed established limits, the donors may not be non-entrepreneurial (non-commercial) legal entities or foreign nationals, etc.
We call on the State Audit Office to study the activities of the mentioned organizations and, if donations are confirmed, to subject them to regulations provided for by law.