Presidential Election in Georgia Proves the Status Quo is Over
By Ernest Petrosyan
Wednesday, November 28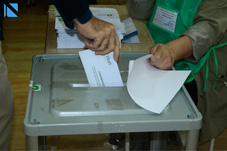 Georgia elects its president after a month-long intense run-off campaign. The run-off is between Georgian Dream (GD) backed "independent" candidate Salome Zourabichvili and the United National Movement (UNM) candidate Grigol Vashadze.
The stakes in the presidential run-off are high. The elections represent another litmus test for a transitional post-Soviet democracy, which has to cement its democratic platform and finally join the club of western democracies. Failure to ensure free and fair elections will appear as a serious setback for country's democratization, thus ruining the international image of a regional democratic front-runner. It is also crucial that both parties accept the outcome regardless of who wins, provided no major violations are reported by election monitors.
These elections are by far more than just a presidential run-off. The UNM, as well as the rest of the opposition coalition, regards Vashadze's victory as stepping stone for the future power transfer. Furthermore, the victory of the UNM candidate will give more credibility to the opposition coalition, while the process of political cohabitation will inevitably shake the already unenviable positions of the GD. Importantly, many of the strong supporters of the GD have lately been quite skeptical of the government, and now openly support the UNM candidate.
The GD dubbed the presidential run-off as "principal elections" and so they are indeed. Bidzina Ivanishvili, the master of the GD, does realize the unfavorable consequences of the negative outcome. In one of his interviews, Ivanishvili admitted the growing public discontent. For Georgian Dream, losing these elections will represent an evident proof of Georgia's widespread dissatisfaction with incumbent party. This combined with intensified institutionalized political pressure on the ruling party prior to the 2020 parliamentary elections can result in the fiasco. Currently, the prospects of Zourabichvili's victory are not positive. The GD has put itself in a political zugzwang as having a pro-party president will rather contribute to the growing public discontent in the country.
While in the first round Zourabichvili had a razor-thin advantage with 38.6 percent of the votes versus Vashadze's 37.7 percent, most analysts agree that Vashadze is likely to win the run-off race. David Bakradze, the European Georgia candidate, who received nearly 11 percent of the vote, endorsed Vashadze after the first round. If half of Bakradze's voters will vote for Vashadze, it will make the victory of the UNM candidate quite possible, despite the GD's extensive use of the administrative resources.