200 New Electric Buses to Operate in Tbilisi from 2020
By Tea Mariamidze
Tuesday, December 4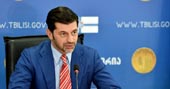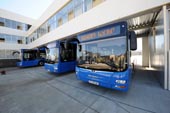 200 new 18-meter long electric buses will start serving Tbilisi residents from 2020. The information was released by Mayor Kakha Kaladze on December 3.
Summing up one year since becoming a mayor, Kaladze said that in the frames of the bus replacement program, a total of 750 buses will be purchased, which will replace the old buses completely and increase a total number of buses by 200 units.
According to the mayor, at the end of 2019, the existing old buses will be completely replaced by new ones. He added by this time, the City Hall has already purchased diesel-based 10-meter MAN 90 buses, which will start operating from February.
He also added that tender procedures for purchasing 220 units of diesel-engine, 8-meter long buses have been completed and soon the winning company will be revealed.
"Next year we will announce a tender for purchasing 240 new, CNG-engine eight and ten-meter long electric buses. As I promised, the process of purchasing buses will be completed by the end of 2019," said Kaladze.
The mayor said from next year Tbilisi will have a special bus system, developed by the French company Systra, which envisages the allocation of special lines for large buses.
Kaladze is sure that the new system will make public transport faster and more comfortable, which will encourage people to use their vehicles less.
At present, out of 816 in the capital, 143 buses are new. The rest are old yellow buses which need to be replaced because of their exhausted system. Using such buses is not allowed by Georgian legislation.
The mayor promised that by the end of next year, all the old buses will be replaced by environment-friendly ones.