Georgian occupied regions close so-called border to avoid swine flu
By Gvantsa Gabekhadze
Monday, January 14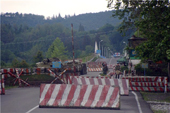 De facto leaderships of two Georgian occupied regions of Abkhazia and Tskhinvali (South Ossetia) closed the so-called border with the rest of Georgia as they believe the measure will protect the regions from swine flu which is spread in Georgia currently.
Swine flu, same as H1N1, is an acute respiratory illness which has almost the same symptoms as the flu, however, it is particularly dangerous for elderly people, children, pregnant women and people with chronic illnesses.
Only those with "Abkhazian passports" and the Enguri power station employees are allowed in Abkhazia.
Tskhinvali said they "temporarily" closed the so-called border on Friday.
Georgian State Minister for Reconciliation and Civic Equality of Georgia Ketevan Tsikhelashvili has condemned the fact and hailed it as the violation of the freedom of movement right.
"The situation in Georgia is not critical and there is no epidemic. flu is spreading in many other countries including Russia. We always care about our citizens in Abkhazia and Tskhinvali and we are able to help them in case of the spread of the flu with necessary medication.
"Closing the so-called border does not have any justification. This will serve as an additional restriction for people to whom moving around the so-called border is vitally important," Tsikhelashvili said.
Russia, Venezuela, Nicaragua and Nauru recognized the two Georgian regions as independent republics by in the wake of the Russia-Georgia 2008 war.
The rest of the international community says the regions are the integral part of Georgia which are now occupied by Russia.