Occupied Tskhinvali Representative Says Kazbegi Is Part of S. Ossetia
By Tea Mariamidze
Friday, February 1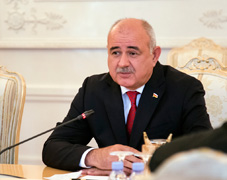 In an interview with Neues Deutschland, de facto Foreign Minister of occupied Tskhinvali region, Dimitri Medoev, states that "Kazbegi is a historical east part of Ossetia, this is a clear position of the leaders of the Republic of South Ossetia and sooner or later these territories will be returned to Ossetian people."
The de facto minister also stated that an alliance with Russia is a "historic choice of the Ossetian people, which has sustainable grounds and deep roots."
Medoev also criticized the Georgian government for their Euro-Atlantic aspirations.
"We hear contradictory statements from some of Georgia's leaders. For example, some public figure, a politician always claim that they want to live with us, but on the other hand, they are leading their country to NATO. We understand why they do it, "said the de facto minister.
Georgia's Embassy in Germany released a statement regarding the interview, saying they had communicated with the editorial and informed it about the legal status of the Tskhinvali region in detail.
According to the information of the Georgian Embassy, the author of the interview, journalist David Noack publishes articles mainly in left-wing editions and is a member and an active supporter of the organization Berlin Friends of Russian People since 2012.
"As for the edition, Neues Deutschland is a low-circulation media outlet. Various state agencies consider it as an edition, which clearly shows the leftist radical inclination. This newspaper's articles have a positive attitude towards Russia and justify Russia's aggressive actions and hegemonic attitudes towards post-Soviet state", the Georgian Embassy in Germany states.
Vladimer Konstantinidi, the representative of Ministry of Foreign Affairs also commented on Medoev's interview. He said due to its absurdity, Dimitri Medoev's interview does not deserve much attention and wide replication.
According to him, the edition does not enjoy any particular credibility or rating in Germany.
Carl Hartzell, Ambassador of the European Union to Georgia, says the EU's opinion on Georgia's territorial integrity is firm.
"The EU's position on Georgia's occupied regions is unambiguous and clear. We support Georgia's sovereignty and territorial integrity and will continue to stand firm in this position, "said Carl Hartzell.