Tbilisi Mayor says 90 new busses working on diesel will serve passengers
By Gvantsa Gabekhadze
Thursday, February 14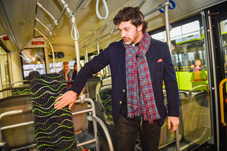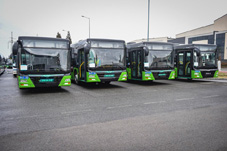 Tbilisi Mayor Kakha Kaladze has stated in a live video that 90 new green busses produced by MAN will gradually enter Tbilisi starting from the week to serve passengers.
The statement has caused controversial assessments on social networks, as in October 2018 the government vowed that the renewed public transport would be environment-friendly.
"Tbilisi public bus fleet will be completely renewed, meaning that all existing yellow buses will be replaced with new ones, which will be absolutely environment-friendly," Kaladze said in October, adding that that about 550 new buses will be introduced by the end of 2019.
Kaladze also said that it is planned to create branded buses for Tbilisi. He also said that from 2020 Tbilisi will have 200 electric buses and that by 2020 the number of public buses will increase to 900 units.
"We already announced a tender to buy 220 buses," Kaladze said on Tuesday from Poland, where he visited the MAN factory to see the busses produced for Georgia.
He stated that the MAN buses are 10-meter-long, work on diesel, are equipped with cameras and are convenient for people with disabilities.
The same day, on Tuesday, a yellow bus moving from Tskneti to Tbilisi had an accident as the breaks failed, the driver said. Six were injured and hospitalized.
The driver said that he did his utmost to direct the bus to trees and the trees stopped the vehicle.
He also said that the vehicle has been checked for safety and meets mandatory safety standards.
The government and the opposition are exchanging accusations regarding the "current grave situation" regarding the pollution in Tbilisi, shifting blame onto one another.