Georgian FM says secure Europe is unimaginable without secured Black Sea
By Gvantsa Gabekhadze
Monday, February 18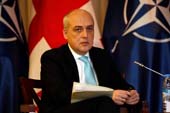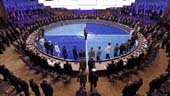 Georgian Foreign Minister Davit Zalkaliani stated at the 55th Munich Conference that secured Europe is less plausible without the secured Black sea region and requested the creation of a more comprehensive strategy for the Black Sea region from NATO.
He said that the creation of such a strategy will benefit both the regional states and the alliance and added that NATO should open its doors for the regional states.
"The open door policy for the Black Sea region countries will help NATO strengthen security in the region and deal with the challenges on its Eastern flank," Zalkaliani said.
Zalkaliani claimed that NATO's new strategy is particularly important as Russia acts aggressively in the Black Sea region, occupying the territories of sovereign countries.
"Georgia has dealt with the full-scale hybrid war from Russia since the 1990s. It was obvious from the beginning that Russia had no plans to adapt with the new international order and was taking steps to regain its lost, dominant power in the region," Zalkaliani said.
Russia has many times stated that it is strongly against the NATO presence in the region and said that "Georgia will face problems" if active talks launch for its membership in the alliance.
NATO Secretary General Jens Stoltenberg stated during the NATO Foreign Ministerial in December 2018 that Georgia and Ukraine face serious security challenges from Russia and the alliance will continue to give both countries "practical and political support".
"There is no justification for this use of force [by Russia against Ukraine]. We call for calm and restraint. Russia must release the Ukrainian sailors and ships. It must also allow freedom of navigation," Stoltenberg said.
He said that it is up to Georgia and nobody else to make decisions regarding the country's foreign intentions.
The Munich conference was held between 15-17 February in Bavaria, and "hosted an unprecedented number of international decision-makers," the conference web page reads.
More than 35 heads of government and heads of state, as well as 50 foreign and 30 defense ministers were present with the Georgian delegation headed by the country's prime minister.