Signing Ceremony for the Three Green Policy and One De-Mining Projects financed by the Government of Japan within the framework of "Grant Assistance for Grassroots Human Security Projects"
Friday, March 1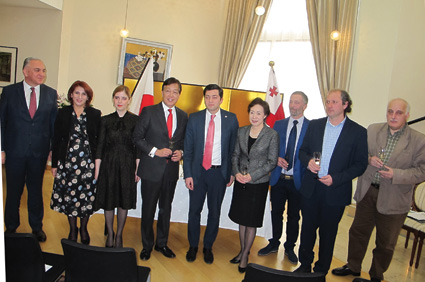 On February 28, the Signing Ceremony was held for the Four Projects: Three Green Policy and One Humanitarian De-Mining Projects, within the framework of the "Grant Assistance for Grassroots Human Security Projects", at the Residence of the Ambassador of Japan.
The Signing Ceremony was attended by His Excellency Ambassador of Japan to Georgia – Mr. Tadaharu Uehara, representatives of the central government – Chairman of the Parliament's Committee on Regional Policy and Self-Government Mr. Zaza Gabunia, Deputy Minister of the Environment Protection and Agriculture – Ms. Khatia Tsilosani, State Governors of Kvemo Kartli and Samtskhe-Javakheti, Mayors and Chairpersons of Sakrebulos of Tsalka and Akhaltsikhe municipalities as well as other members of the central and local government, along with the environmental and agriculture experts, who developed the projects.
The four projects are:
1. Project for construction of potato storage in Tsalka municipality. This project was developed in close partnership with experts of the organization Environment and Development and will be implemented together with the organization Bediani Children Center. This project will allow to increase income of local population of ecological migrants, while at the same time, will allow the organization to promote sustainable usage of water and soil resources. This project is a one step forward towards attempts for preservation of Lake.
Grant Amount: 86 526 USD
2. Project for construction of two workshops, to produce biological bricks in Tsalka municipality. This project was developed by experts of the organization BRIDGE. This project is going to substitute usage of firewood with biologically clean bricks and will create a good precedent for replication, to potentially avoid deforestation in Georgia. It will also cost about twice less than firewood, which is very important for poverty alleviation among ecological migrants, residing in Tsalka.
Grant Amount: 71 498 USD
3. Rehabilitation of the building to create the Agricultural Hub in Akhaltsikhe, which will involve agricultural laboratory and training center for farmers. Laboratory will provide possibility to test soil, water and dairy products. This project will help to produce biologically clean agricultural produce and to promote responsible farming among the local population. This project was developed and will be implemented by the expert involvement of organization Samkaro. The key experts of this organization are JICA (Japan's International Cooperation Agency) alumni, who visited Japan and received knowledge about sustainable agriculture.
Grant Amount: 71 547 USD
4. Humanitarian De-Mining by HALO Trust in village Chonto in Imereti region, which will help to make the area safe for the local population.
Grant Amount: 63 693 USD
The Human Security Grant Assistance for Grassroots Projects (GGP) provides assistance to relatively small projects and aims at improvement of human security in Georgia. It applies to projects in the field of sustainable agriculture, environment protection, poverty alleviation, public health, education, social protection, etc. Since 1998, 170 GGP projects have been financed in Georgia by the Government of Japan, totaling 17'171'529 USD.