Two Georgians Detained with $2,8 Million Worth of Uranium
By Gvantsa Gabekhadze
Thursday, March 14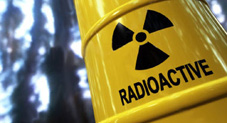 The Georgian State Security Service has detained two Georgian citizens in the Kobuleti region of Western Georgia on March 12 for the illegal possession and sale of radioactive materials.
The detainees intended to sell the $2.8 million worth of Uranium.
The individuals have been only identified as Roman G. and Gocha K.
"They wished to sell uranium for 2,800,000 USD. The total weight of the nuclear material is 40.19 grams, and it contains radioactive isotope - Uranium-238. The substance poses a risk to human health and life" the agency said.
The crime is punishable by five to 10 years in prison.
Back to 2016 three Georgian and three Armenian citizens were detained for illegally selling nuclear material hazardous to human health in Tbilisi.
An official from Georgia's State Security Service said at a special press briefing then that the six people were detained for allegedly selling uranium.
"As a result of joint operative-searching and investigative activities of the Counter-Intelligence and Special Operations Departments of the State Security Service of Georgia, members of a criminal group were detained for illegal handling of nuclear material," said the spokesperson.
He added the alleged offenders planned to sell an amount of Uranium (U238) for $200 million USD when they were detained.
Law enforcers searched the house of one of the accused and discovered a prefabricated container meant to transport the U238.