Green City to Be Built in Georgia's Kobuleti Town
By Tea Mariamidze
Friday, March 29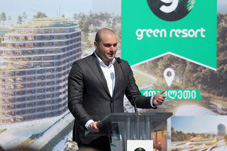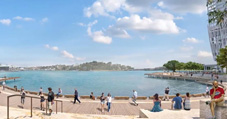 An unprecedentedly large-scale project worth GEL 0.5 billion has been launched in Georgia's Black Sea coastal town Kobuleti, marking the largest investment in Adjara region, West Georgia.
The construction of the multifunctional Green City incorporates 180 hectares of land in Kobuleti, in which Green Resort will invest 500 million GEL.
The resort's construction and operation will employ 500 people. The project involves building a golf course, football pitches, tennis courts, swimming pools, and entertainment and recreation areas.
In addition, a 250-room high-class hotel with conference halls and leisure infrastructure will be built by an international brand.
The Prime Minister of Georgia, Mamuka Bakhtadze, attended the launch ceremony of Green City and Golf Course in Kobuleti.
"We are talking about a large investment to transform Adjara into a year-round destination. We are talking about a large-scale project poised to become a genuine pearl throughout the Black Sea Region, one that will ensure that Georgia positions itself as the tourism leader," he said.
The PM noted that it is especially important that the investments from EU member states are increasing. Georgia-EU free trade regime, the Head of Government said, allows for even larger investments from the leading European countries.
"We are talking about FIFA-standard football pitches, tennis courts, and one of the best golf infrastructures in the world. This will enable us to attract Georgia to those tourists who are not currently viewing the country as a destination because we do not have this kind of infrastructure. I would like to thank our investors who have decided to make this unprecedented investment in Georgia," he said.
Bakhtadze also mentioned the free trade regime between Georgia and the EU, adding it offers the best opportunities further to increase investments from Europe's leading countries.
According to the PM, the project will create 500 new jobs for the locals in Adjara. He said during construction and beyond, after this unique resort is commissioned, small enterprises will be able to receive significant benefits from this large-scale investment.
"In three years, one of the best resorts in the world will be built in this territory stretching 180 hectares, and we will all be proud of it. Once again, I congratulate you on this day. This half a billion GEL large-scale investment will transform Adjara and Georgia into a center of tourism," he said.