Six Detained at the Rally Demanding Protection of Workers' Rights After Death of Two
By Messenger Staff
Wednesday, April 3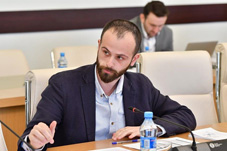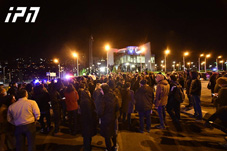 Six activists demanding the protection of workers' rights following the death of two workers on Sunday were detained by police for petty hooliganism and disobedience.
A lawyer of the Georgian Young Lawyers' Association Vakhushti Menabde and an activist of the White Noise Movement David Subeliani were among the detainees on the Chavchavadze Avenue, On Monday, at the scene where two workers died after the opening of a sinkhole during the construction works.
The protestors blocked the street and demanded the arrival of Tbilisi mayor Kakha Kaladze, while police were trying to push them to the sidewalks.
Kaladze said he was ready to meet several organizers of the rally, which was denied by protestors.
After leaving the police station, constitutionalist Vakhushti Menabde said that protests against the violation of labor safety rules will continue in the future.
"We see people being killed at the workplace every day, the reason of which is the indifference of the state. We are protesting against this and demand from the state to take measures instead of just collecting statistics", Menabde said.
Human Rights Monitoring and Education Centre says that between 2011 and 2018, 376 workers died and 1,081 received injuries at their workplace.
Last year alone 199 individuals received injuries and 59 died at their workplaces.
A violation of safety standards has been named as a possible reason behind the death by the Health and Labour Ministry officials.
They said that several companies were involved in the construction works at the scene-a construction company, an executor company, and several contractor companies.
The construction company Transmshen has been fined 7,000 GEL [2,600 USD] as it created problems for the Health Ministry employees to study the scene.
An executor company Lechkombinati has been banned to continue works.
One of the contractor companies Khimij Service was fined 1,000 GEL [370 USD] as it did have official permission to carry out certain works carrying threats.
The protesters announced the plans to create a public movement fighting for labor rights.
Experts say that the fines imposed on the companies "are funny" and the abuse of the people and their families who were killed.