The Conference about rural development held in Tbilisi
By Nika Gamtsemlidze
Tuesday, April 9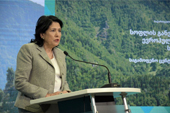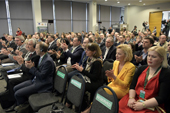 Conference about the prospects and ways forward in the national rural development, hosted by Georgia on April 8, was opened by the President of Georgia, Salome Zurabishvili.
According to the President of Georgia, this conference is important because it covers an extremely necessary field for the country, agriculture. Which, in Zurabishvili's opinion, is the basis for the country's development.
"I am sure that the development of Georgia stands on the development of country's regions and agriculture. The Georgian economy will not be able to develop if our agriculture is not built on modern principles. We have to develop and learn what is considered sustainable development in today's world and build our agriculture considering those principles." Noted the President of Georgia.
As Zurabishvili says, "This means that we should keep old Georgian traditions and learn how to develop them while keeping a safe environment and at the same time be involved in the world market. And all of this is what we need to learn from other's experience."
During her speech, Zurabishvili thanked the international organizations, EU and UN, for their support on the development of Georgian agricultural sector. She also expressed her gratitude to the countries of Europe, for their contributions to Georgia.
The Conference was organized by the Ministry of Environmental Protection and Agriculture of Georgia with the assistance of the European Union (EU) in cooperation with the United Nations Development Programme (UNDP) and was attended by Levan Davitashvili (Minister of Environmental Protection and Agriculture of Georgia), Carl Hartzell (Ambassador of the European Union to Georgia), and Louisa Vinton (UN Resident Coordinator, UNDP Resident Representative in Georgia).
The Minister of Environmental Development of Agriculture of Georgia started his speech with welcome remarks.
"Georgia has made notable progress since 2016 when the country's first Rural Development Strategy was adopted," noted Davitashvili, "The Government of Georgia has introduced a new vision of rural development grounded on the best EU practices in this field."
Carl Hartzell talked about the importance of rural development of Georgia, "We are proud to be part of Georgia's progress in rural development and look forward to continuing working together with all key ministries to improve employment and living conditions of the rural population in Georgia."
Louisa Vinton talked about the benefits of rural development, "Rural development can help unlock the biggest socio-economic challenge facing Georgia, namely that farmers make up 43 percent of the workforce yet produce just 8 percent of GDP" noted UNDP Resident Representative in Georgia.
The goal of the Rural Development Conference was to assist the Government of Georgia to set priorities for the National Rural Development Strategy 2020-2027. The ways of adapting successful European practices to Georgia's realities was also discussed at the conference.