The Monetary Policy Report for May 2019 published by the National Bank of Georgia
By Nika Gamtsemlidze
Monday, May 13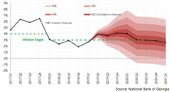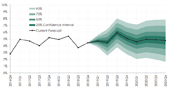 Monetary Policy Report, prepared by the National Bank of Georgia, is the main instrument for communicating monetary policy and is published quarterly. The report contains inflation forecast, forecasted path of the future policy rate, and gives a detailed description of factors influencing the monetary policy decisions.
As the report says, in the first quarter of 2019, the annual inflation rate came out at the expected level and stood at 2.7%.
As anticipated, downward pressure on inflation from aggregate demand was balanced by the average costs of servicing foreign currency business loans and increases in the excise taxes on tobacco products.
However, an additional increase in the tobacco prices from the beginning of 2019 increased annual inflation to 4.1% in April. As a result, inflation overshot its target level. But it should be noted that inflation increases due to that higher excise taxes (1.3 pp contribution to April annual inflation) are temporary and will be neutralized from the following year.
The forecast of the National Bank of Georgia says that in the short-run, inflation will remain somewhat above the target level of 3%, while from the next year it will return to it. Downward pressure on inflation coming from still weak aggregate demand will be balanced this year by the effect of excises taxes on tobacco and by the imported inflation along with higher intermediate costs of servicing debt due to dollarization.
On the other hand, NBG's forecast of real GDP growth for 2019 remains unchanged at 5%. Despite the risks stemming from a softening of economic growth in the second half of the last year, the baseline scenario expects that slowdown will only be temporary. This view is based on the assumption that the moderate growth of credit activity will continue, and that fiscal stimulus will be of the planned scale.
As assigned by legislation, the National Bank of Georgia prepares and publishes the report, which focuses on the forecast of economic growth.
Prepared after the report of the National Bank of Georgia.