Flowers from inmates: vocational training in prisons
By Levan Abramishvili
Monday, May 13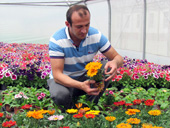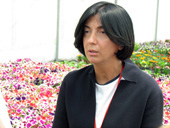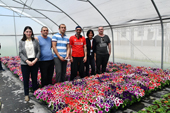 Non-Governmental Organization Civil Development Agency (CiDA), with the support of the European Union, conducted a project aimed at helping convicts and ex-convicts gain or develop skills in agriculture for future employment and reintegration into the society.
CiDA, in partnership with the Georgian Farmers Association and DVV International, constructed greenhouses in three prisons (#5, #15, #16), where the convicts gained foundational knowledge in horticulture. For the past three months, participants had been working on theoretical and practical experience in market gardening of flowers and berries through work-based learning.
Various studies across the globe show that prisoners who attend educational programs while incarcerated are less likely to return to prison after their release.
"It's a very important project, through which vocational training was introduced in prisons. Three institutions participated in the program – two in Rustavi and one in Ksani. Inmates got a chance to gain vocational training. We built greenhouses, where we grow flowers and strawberries. We think that after leaving prison, these people will have more opportunities for employment or self-employment. It's also noteworthy that 42 of the participants received certificates today," said Nino Zambakhidze, the chairperson of Georgian Farmers' Association.
She also emphasized the importance that education has in the development of the country. "It doesn't matter where you receive education, whether it's in prison or outside of it. It is unimaginable for the country to develop without it," Zambakhidze noted.
Studies across the globe show that inmates who attend educational programs while incarcerated are less likely to return to prison following their release.
Teona Kiladze, the project manager at CiDA, explained the structure of the project: "the project has several components: informal education, short training courses, work-based learning, and small grants which we give out to ex-convicts and people with conditional sentences. …The greenhouse was created using a dual, work-based method."
The Messenger
spoke to those enrolled in the program. Many of them mentioned that initially, they joined the program to pass time, but as they became more informed, they saw clear opportunities to improve their capabilities for employment after being released.
"Initially, I joined the project to pass time, but I got interested quickly. I found myself in agriculture. …After the release, even if I don't use this knowledge for commercial purposes, it will always remain a hobby," said Jokia Bodokia, one of the inmates and project participants.
The project was well-received within the inmates; they showed keenness to develop their agricultural skills and a will to get involved in the business after their release.
"I love working in agriculture, especially with beautiful flowers like this. I have my smallholding. I got involved in the project to gain more knowledge. …We covered in theory, as well as practice, everything from planting seeds to retailing the finished product," said Paata Kasradze, an inmate at the Rustavi #16 prison.
The project gives a chance for inmates to find interest in agriculture, developing one of the skills to potentially simplify the process of reintegration into society after their release.
The enthusiasm and dedication to the work that the participants have shown should encourage organizations to continue their work with the inmates, honing their skills and providing them with focus.
Flowers grown by the inmates are planned to be sold at the Flower Festival during the May 26 celebrations.