Europe Foundation: gov't lacks vision for better inclusion of people with disabilities
By Tea Mariamidze
Tuesday, May 21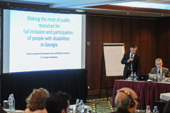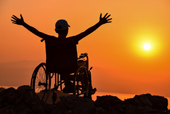 Local Organization Europe Foundation's (EPF) recent study revealed that the government of Georgia does not have a unified and long-term vision for the promotion of inclusion of people with disabilities (PwDs).
The foundation says that although the state allocates around GEL 212 million on the needs of PwDs annually, this amount is mainly spent on the social assistance and is not focused on the development and financing of social programs necessary for PwDs.
"This undermines a full integration of people with disabilities into society," the report reads.
The report was prepared by an invited consultant Alexander Cote together with the expert Mikheil Kukava.
Within the scope of the survey, the researchers studied Central and Local Budget of Georgia which was allocated for the needs of people with disabilities.
"This study aimed to figure out to which extent public resources that are spent by the government of Georgia contribute to the inclusion of people with disabilities," Alexander Cote said.
According to him, most of the money is spent on social cash transfers and much less on services.
"There is no collective vision of what would be needed or required to make significant steps towards the inclusion of people with disabilities," he added.
Lia Tabatadze from the Down Syndrome Association says that the state considers people with disabilities as objects of philanthropy:
"Unless these amounts of money are channeled towards the development of services, we will not get the results which we are striving for together," she said.
President of the EPF, Ketevan Vashakidze says it is crucial for the interest group to mobilize, and through this engagement and participation, succeed in changing the public policy.
According to expert Mikheil Kukava, a total of GEL 190 million was spent in 2018 on social assistance.
"This GEL 190 million is quite a large sum of money for Georgia and it will be much more effective to channel a certain amount of this sum towards services," he said.
The research recommends that on the one hand the state should be guided by the United Nations Convention on the Rights of the Persons with Disabilities and on the other hand, it should ensure maximum involvement of PwDs in budgeting processes.
It also reads that organizations working on the rights of persons with disabilities should improve their capabilities to be able to analyze the existing budget and advocate result-oriented initiatives.
EPF was established as a local organization in 2008. Its mission is to empower people to effect change for social justice and economic prosperity through hands-on programs, helping them to improve their communities and their own lives.
Europe Foundation engages citizens in social, economic, and political developments, to effect substantive and sustainable positive socio-economic change at the local, regional, and national level through both operational programs and grant-making.