Attitude towards EU through the years
By Levan Abramishvili
Tuesday, May 21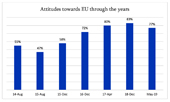 On May 20, the National Democratic Institute (NDI) and CRRC-Georgia published poll results that show strong support for membership in the European Union (EU) and NATO from the Georgian public.
In the 2019 poll, a total of 77 percent approve joining the EU, with 56 percent strongly approving. If the country held a referendum on membership tomorrow, 68 percent say they would vote for and only 14 percent against.
NDI surveys public opinion in Georgia since 2010. The polls aim to capture the most relevant information to foster the development of responsive policies and governance.
It is interesting to take a look at how the attitudes have shifted towards the EU and NATO over the years.
The question regarding the attitude towards Georgia's Euro-Atlantic integration first appeared in the NDI poll in 2014.
Back in 2014, nearly 60 percent of Georgians believed that the country should join the European Union (EU) rather than the Eurasian Union, established by Russia to garner and regain influence over post-Soviet countries.
The respondents in 2014 were highly supportive (78 percent) of the Georgian government's stated goal to join the EU.
In 2015, NDI conducted two surveys, one in August and one in December. Choosing between the EU and Eurasian Union, between the two surveys of 2015, the support for the EU increased from 47 percent to 58.
In December of 2016, the support for the European Union (EU) and NATO remained high, with 72 percent of Georgians approving the country's goal to join the EU and 61 percent to join NATO.
In April 2017, the poll showed that the support for the European Union (EU) rose to 80 percent.
In December of 2018, the EU membership support increased and totaled 83 percent.
Even though the questions asked through the years regarding the EU are different, it still gives us an interesting overview of the continued growth of support.
Compared to the 2018 results, the May 20, 2019 results showed that the support for EU membership decreased with 6 percent from 83 to 77.
This change can be attributed to several reasons, one of them being the challenges that the EU faces with Brexit and other issues.
It still has to be mentioned that the close cooperation and bolstered support from EU to Georgia is appreciated within the society and the minuscule 6% decrease in the attitude shouldn't pose a serious concern for the future aspirations of the country and the strong support of the Euro-Atlantic integration from the public.