Japanese Ministry of Economy approves feasibility study for Anaklia SEZ project
By Levan Abramishvili
Wednesday, June 12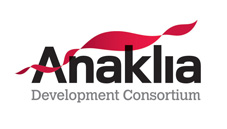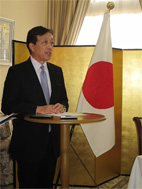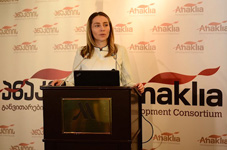 Ministry of Economy, Trade, and Industry (METI) of Japan approved Japanese companies to conduct a Project Feasibility Study for the Anaklia Special Economic Zone (SEZ) in Georgia.
The main emphasis of the study is to gain the possibility to attract Japanese companies as a part of Anaklia Special Economic Zone. The study should elaborate on the SEZ development plan and a masterplan. In the frame of the grant, three parties are involved, Tomonius Co., Ltd., the company which is the applicant of the award, Phnom Penh SEZ Plc. The partner company in the cooperation and Nippon Koei Co., Ltd. consultant company working on the development plan of Anaklia SEZ.
The Ambassador of Japan to Georgia, HE Tadaharu Uehara spoke about the Japanese company and the importance of the feasibility study. According to him, Anaklia City and Phnom Pehn SEZ have been working since February 2019, to develop the strategy for the success of Anaklia Special Economic Zone.
"Phnom Pehn SEZ was established in the 2006 year as a joint venture between Japanese and Cambodian companies. Since then, the company has successfully developed 400ha of the area and as of today and has tenants from 14 nations where companies have invested about USD 600 million in their projects and employ more than 20,000 local people. Among the clients of the SEZ, there are leading Japanese and other International companies," said the Ambassador.
According to HE Tadaharu Uehara, in March 2018, CEO of Phnom Pehn SEZ and expert from Nippon Koei visited Anaklia to study the project more closely.
"I hope the feasibility study brings a positive outcome for private Japanese business," he added.
CEO of Anaklia City, Keti Bochorishvili highlighted that the approval of the feasibility study is the proof that Japan has a great interest in Georgia's strategy on the economic corridor and that the cooperation between Japanese companies and Anaklia City has always been on their agenda.
"As Japanese companies are bringing quality, efficiency, and cutting-edge technology anywhere they work, we aim to have as much cooperation with them as possible. This is a very good opportunity for us to use assistance from the Japanese Government and to strengthen economic cooperation between Japanese companies and Anaklia Project, thus, Georgia and Japan," said Bochorishvili.
CEO of Phnom Penh SEZ Plc., Hiroshi Uematsu spoke about the company's interest in Georgia. According to him, Georgia has great potential to grow as a regional hub by developing the Anaklia Project.
"We are happy to share our experience to Anaklia City to develop the SEZ to attract global investors, including Japanese. At the same time, we would like to learn from Georgia how you achieved No. 6 rank in Ease of Doing Business that was higher than most Asian countries," said Uematsu.
Anaklia Special Economic Zone will be developed on 400 ha land and employ up to 16 000 people in the next 20 years. SEZ will be fully integrated with Anaklia Deepsea port, creating united custom free area and access to multimodal infrastructure: deep sea port, road and railway links to the national networks.
The overall concept of Special Economic Zone will enhance different industries such as logistics, light manufacturing, service, tourism, assembling, etc. A dedicated zone for training and development of human resources will help address regional workforce skills development objectives.
As Georgia stands out with ratings in doing business and low total tax rates, Anaklia SEZ will further encourage investors to nurture their businesses in Anaklia.
SEZ connected to the Anaklia Port will offer more such opportunities and will attract both foreign direct investment and domestic investment, create clusters, draw new industries, promote increased economic integration, and generate job creation.
Recently, Anaklia City and The Asian Development Bank (ADB) signed a memorandum of understanding (MOU), which aims at studying, identifying and assisting the development of the Anaklia Deepwater Port and SEZ in Georgia. The MOU enables ADB and the Anaklia City JSC, to explore opportunities for partnership in the areas of infrastructure, human resource development, financing, and trade facilitation.