Deputy Economy Minister participates in the official opening of International Logistic Conference
By Nika Gamtsemlidze
Monday, June 17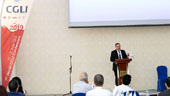 The Deputy Minister of Economy and Sustainable Development, Akaki Saghirashvili attended an official opening of the International Logistic Conference. The event was held by the support of the global organization, CGLI and Georgian Logistics Group. The conference was attended by 150 delegates from more than 100 countries, most of them representing shipping and logistic sector.
In his welcoming speech, the Deputy Minister presented the government's view regarding the development and future of shipping and logistic sector. He focused on the geopolitical location of Georgia, which represents an excellent opportunity for developing the logistical sector. Saghirashvili also talked about large infrastructure projects, such as Deep-Sea port of Anaklia, modernization of Georgian railway, etc. As he said, these projects will significantly facilitate the entry of international carriers in the Georgian market and attract additional capital in logistics infrastructure.
During his speech, Saghirashvili also talked about the importance of developing the so-called "middle corridor," and the decisions made for its development. The Trans-Caspian International Transport Route (TMTM) or Middle Corridor is an international transport route that starts from Southeast Asia and China, runs through Kazakhstan, the Caspian Sea, Azerbaijan, Georgia and further to the European countries.
"We are working actively for the popularization of the Middle Corridor, as well as for implementation of current and planned infrastructure projects. We aim to turn Georgia into a hub of the region. Such high-level conferences will increase both, the recognition of our country and the region, as well as the middle corridor among the international carrier and logistics companies," noted Saghirashvili.
The Managing Director of CGLI, Raymond Van Achteren, also addressed the attendees, as he said, learning more about the situation in the region is very important for them. "It is very interesting for us to study the situation in the Caucasus region and the Black Sea countries. I represent the CGLI, which has its representatives in more than 100 countries. I am sure that after this conference, more of our representatives will visit Georgia," noted Achteren.
As he noted, ongoing infrastructure projects in the country will double the existing opportunities. "As the representative of a courier company, I can tell you that our interest in this country is huge. We see opportunities, which are developed by the country right now, and also we see very clearly the progress made by using these new opportunities," said the Director of CGLI.
According to their official website, CGLI is a network where members are working very closely together and take good care of each other's business, creating a safe global environment on which shippers, consignees, etc.
On the other hand, Georgian Logistics Group, another supporter of the conference, is one of the fastest-growing freight forwardings and Logistics Company in the Caucasus Region. Its transport and warehousing capacities, as well as an established network of partners, facilitate access to new markets for customers from around the world.