Batumi hosts Women's Economic Forum
By Inga Kakulia
Tuesday, June 18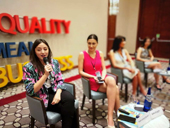 Women's Economic Forum took place in Batumi over the weekend.
The event was organized by the United Nations and the Federation of Business-leaders, "Women for the future." The goal of the forum is to encourage the involvement of women in businesses and support their growth as manufacturers. UN Women, with the government of Adjara and the Business Leaders' Federation' Women for Tomorrow' also hosted a meeting with local business companies at the Hotel Hilton."
The forum focused on success stories of Georgian women in business and provided all the necessary information regarding different accessible training, grants, and educational opportunities for women. The main message of the forum is "Elevate your Company through Women's Empowerment!" and aims to raise awareness and promote equal opportunities among companies and women.
The forum also hosted outdoor events. On June 15, UN Women and Business Leaders' Federation "Women for Tomorrow" in the framework of the Women's Economic Forum, hosted the female entrepreneurs fair in Batumi's Central Park.
On the second day of the event, female students of Batumi Maritime State University marched towards the Batumi Central Park in honor of the event and its purpose.
The forum had multiple experienced speakers and panels and was open to anyone interested in the topic.
Andro Dgebuadze, a Public Speaker and Business consultant conducted a workshop called "How to turn inspiration into business," while Tamara Kachashvili, public speaker and a business coach talked with the attendees on how to design goals and objectives for the business.
The forum was organized within the framework of the project "A Joint Action for Women's Economic Empowerment in Georgia" funded by the Norwegian Ministry of Foreign Affairs.
The first regional forum for women's economic strengthening was held in Kutaisi on March 30-31. In July, Zugdidi will host the next Economic Forum for Women.