1st conference on public-private cooperation held in Tbilisi
By Natalia Kochiashvili
Monday, June 24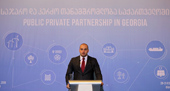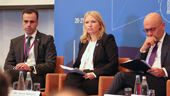 For the first time in Georgia, a two-day conference dedicated to public-private cooperation was held in Tbilisi on June 20-21. The event was organized by the Public and Private Cooperation Agency, which was created by the government's decision to increase the efficiency of cooperation between the two sectors and to facilitate the successful implementation of future projects.
The participants of the event included Aleksandre Revia, Head of the Public and Private Cooperation Agency of Georgia; Yesim Elhan-Kayalar, Director of Asian Development Bank (ADB) in Georgia; And Louisa Vinton, UNDP's Head of Mission in Georgia.
Prime-Minister of Georgia, Mamuka Bakhtadze opened the conference. He said that the government is interested in attracting more investments for infrastructure projects, adding that the Georgian Public-Private Partnership Agency is a "unique platform" to achieve the goal. "Public-private reform, which is based on the best international experience, will be one of the most successful ones in Georgia," announced PM.
The conference discussed the achievements of the government of Georgia in sustainable structural reforms, improvement of open governance and decision-making processes. Also, attention was paid to the role of public and private partnerships in ensuring inclusive growth and poverty reduction. The event participants got acquainted with the procedures and guidelines necessary for successful and significant projects.
The first part of the conference - high-level discussions, considered issues related to public and private cooperation in Georgia, and the second part included a practical seminar for local self-government, municipalities, and central government representatives.
Within the working part of the conference, international experts and specialists discussed basic aspects of public and private cooperation in the context of Georgia and shared their experience with participants. Practical Seminar, along with sharing of knowledge, was to facilitate professional contacts between public and private sector employees.
Yesim Elhan-Kayalar said that Georgia is becoming more and more attractive in terms of foreign direct investment (FDI). She praised the Georgian government for drafting the policy for the public-private partnership back in 2015, which allowed the active involvement of the private sector in infrastructural and other projects.
Natia Turnava, the Minister of Economy and Sustainable Development also participated in the conference. Turnava underscored the fact that private-public cooperation reforms have received very positive assessment in international financial institutions. "It is very important that correct structural reforms allow us to integrate inclusive economic growth and development with the welfare of families" – Minister of Economy added. In her speech, she also focused on infrastructural projects that require significant financial and technical resources.
The conference is supported by the Government of Georgia, the Asian Development Bank (ADB) and the United Nations Development Program (UNDP) as well as Swiss and Austrian governments.