America - Georgia Business Council holds 22nd Annual Conference
By Nika Gamtsemlidze
Monday, July 1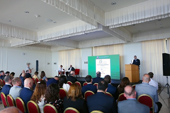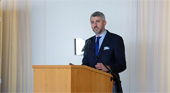 The America-Georgia Business Council (AGBC) held its 22nd Annual Conference at the Funicular Conference Hall in Tbilisi, Georgia, on June 27.
According to the organizers, the conference aimed to strengthen the U.S.-Georgia bilateral economic and trade relations further and discuss Georgia's current development. In the framework of the meeting, private companies discussed already implemented and planned investments in Georgia in the priority areas. These areas include energy, metallurgy, agriculture, tourism, financial sector, etc.
The conference also offered a special presentation of the 25th-anniversary edition of The Heritage Foundation's Index of Economic Freedom, which underlines Georgia's accomplishments and challenges in its analysis.
The Deputy Minister of Economy and Sustainable Development of Georgia, Nikoloz Alavidze, attended the conference. In his welcoming speech, he talked about the importance of the meeting, as well as the accomplishments made by Georgia in previous years.
"I am happy to share this wonderful moment when we celebrate 25 years of Heritage Foundation in Georgia. Georgia was in a difficult situation then, but now we are at the advanced positions in different international ratings. Of course, our friends and allies, including the United States and its government that has been constantly and comprehensively supporting our country for years," noted the Deputy Minister.
According to Alavidze, the high positions of Georgia in the international ratings represent something that every Georgian is proud of, but "this is a kind of a challenge as well – high rating positions give even more stimulus for further development."
"I would like to thank the United States, its financial institutions, local and international teams for continuous support and jointly implemented activities that advanced Georgia this much. This is a prerequisite for sustainable development, and we are confident that we will become even more successful with your support," stressed the deputy minister.
Established in 1998, the America–Georgia Business Council is a private, non-profit corporation governed by a Board of Directors. The AGBC promotes trade and investment between North America and Georgia by helping companies focus and accelerate decision-making to forge successful, bilateral business partnerships.
The AGBC relies on a deep understanding of the Georgian political and business landscape, direct access to high-level government officials and agencies, and diverse business contacts to deliver value and maximize opportunities for its members.