After Russia's travel ban Georgia's Minister of Economy meets US tour operators
By Tea Mariamidze
Wednesday, July 3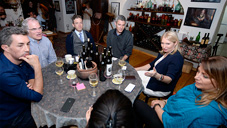 Minister of Economy and Sustainable Development Natia Turnava met with the representatives of the large US tour operators as a result of which it was decided that National Geographic and MIR corporation will help Georgia attract more tourists.
The US largest tour operator, the MIR Corporation, which has been working in Georgia for a long time, and is engaged in local tourism markets in USA, Canada, New Zealand, and other English-speaking countries, is launching a joint project on preparation of travel tours with National Geographic. Users of this service will be citizens of North American countries, New Zealand and other English-speaking countries. The company will offer tourists packages tailored to their requirements.
Turnava positively assessed the joint project of the American tourism company MIR Corporation and National Geographic, which will help to bring tourists from English-speaking countries in Georgia and to offer them special tourist services.
"We welcome such a project that will increase the number of tourists from the US, Canada, New Zealand, and other English-speaking countries. We will support this project, and we believe that such activities will contribute to Georgia's recognition in the English-speaking countries as a country of unique nature, culture, wine and, the safe tourism destination," she said.
The sides also noted Georgia has a great potential to significantly increase the number of tourists from the North American countries.
The minister said that in the current situation when Georgian tourism faces challenges after Putin's ban on direct flights with Georgia, implementation of such a project with the US tour operators is very important for Georgia.
Representatives of the Association of Tour Operators of Georgia also participated in the meeting.
Last week Turnava also met the representatives of all commercial banks operating in Georgia.
The minister discussed with the banking sector the establishment of a plan that will reduce negative impacts on the economy due to the existing reality on the business in general and particularly on a small and medium segment in the tourism sector.
Moreover, at the meeting of the representative with the hotels, the same topic was discussed. The sides discussed the ways of overcoming the challenges in tourism with the representatives of the brand hotels.
After July 8, around 155 thousand Russian people will not be able to use the tickets they had already purchased. Also, 3.5 thousand people purchased their tours to Georgia from the travel agencies in Russia, and now their trips have also been abolished.
Russian tourists comprise 25% of Georgia's whole tourism market. After the ban, the economists believe the country's economy will see the $700 million loss.