Georgia has plans to export more products to China
By Gvantsa Gabekhadze
Wednesday, July 3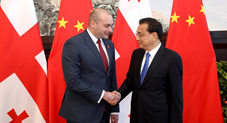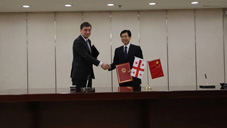 Georgia has plans to boost exports to China and fully use the China-Georgia free trade deal, Georgian Prime Minister Mamuka Bakhtadze stated Dalian, China, late on Monday, where he was invited to attend the World Economic Forum.
Before delivering a speech at the forum session, Bakhtadze discussed prospects for exporting more products from Georgia to China during his meeting with the Premier of the State Council of the People's Republic of China Li Keqiang.
Both said there are fields where trade cooperation should be boosted.
Bakhtadze thanked Keqiang for inviting him to the World Economic Forum as only several top state figures have been invited there.
Georgian wine, mineral waters and agricultural products have been exported to China, the market of 1.4 billion consumers, with zero tariffs, without additional customs fees and any transition period starting from 2017.
The final Free Trade Agreement between Georgia and China was reached in 2017, "a record-breaking time of seven months," making Georgia the first country in the region to have such an agreement with China.
Georgia and China began discussing the possibility of the free trade regime in September 2015; however, a final agreement was signed in October 2016.
Georgia has free trade deals with Turkey, European Union (EU), European Free Trade Association (EFTA) countries - Switzerland, Norway, Iceland, and Liechtenstein - and with the Commonwealth of Independent States (CIS) countries - Armenia, Azerbaijan, Kazakhstan, Kyrgyzstan, Moldova, Turkmenistan, Tajikistan and Uzbekistan.
The country has goals to sign such a deal with the United States.