Russian Senator Jabbarov calls for banning Georgian wine
By Tea Mariamidze
Thursday, July 4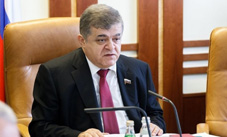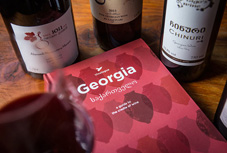 Russian Senator Vladimir Jabbarov stated that Russia should ban imports of Georgian wine after the recent developments between the two states, following the anti-Russian rallies in Georgia.
He said that "Georgia is not a small child who has spoiled something and should be forgiven."
"Georgia is an independent state and should be responsible for its own steps. I think we should take measures – sanctions," he said.
The Russian politician believes it is not necessary to say that "Georgian wine quality deteriorated" but to impose a ban on wine import as "Georgia behaved unfriendly."
"If you consider Russia as an aggressor, sell your wine and products to other countries," he addressed Tbilisi, adding Georgia needs to "sense economic results of its behavior."
Relationship between Russia and Georgia has worsened after the large-scale anti-Russian rallies in Tbilisi launched on June 20. The protests were sparked after Russian MPs arrived in Tbilisi parliament while attending the Inter-parliamentary Assembly on Orthodoxy (IAO). The opposition MPs and the protesters did not allow the IAO session to continue as they tried to enter the parliament. Later, a decision was taken to stop the session, and the Russian delegation had to leave the country.
240 people were injured, and more than 300 were detained during the developments.
Following June 20-21 anti-Russian rallies in Tbilisi, Russian President Vladimir Putin issued a decree, banning flights with Georgia and a day after that Russian Federal Service for Surveillance on Consumer Rights Protection and Human Wellbeing released a negative statement against Georgian wine, saying the quality of wine and other alcoholic beverages imported from Georgia "is deteriorating by the year," which was forcing them to "tighten control on Georgian products."
Eight specific Georgian wine companies were not allowed to be imported to Russia, adding "they did not meet the mandatory requirements."
Georgian National Wine Agency (NWA) claims that in parallel with the growth of wine export, Georgian side pays particular importance to the preservation and improvement of Georgian wine quality.
The agency assures that Georgian wine quality is in line with requirements, and all wines undergo testing before export.
NWA also reports that Russia imported the most number of Georgian wines in 2019. The top five Georgian wine importer countries in January-June 2019 were:
- Russia – 25,582,447 bottles
- Ukraine – 3,752,488 bottles
- China – 3,554,127 bottles
- Poland – 1,821,802 bottles
- Kazakhstan – 1,656,318 bottles
In total, around 40.5 million bottles of wine were exported to 44 countries in January-June of 2019, which is a 6% increase compared to the same period of 2018.
The agency says the country got $98 million income from the sale of wine abroad which is a 9% increase compared to 2018 January-June.
In the first half of 2019, the exports increased to the strategic markets of Georgia: The US - 88% (354874 bottles), China - 19% (3554127) and Poland - 16% (1821802).
Exports also increased to Poland by 68% (146892), Belarus - 32% (889002), Israeli - 20% (131184), Canada - 12% (12%), France - 120% (55908), Lieutenant - 68% (315306), Mongolia - Germany - 11% (317771), Estonia - 11% (326966), Russia - 6%, (25582447), Moldova - 3618% (263210)
NWA says that 229 Georgian companies were engaged in the process of exports in the first 6 months of this year.
In addition to wine, 12.6 million bottles of brandy were exported to 18 countries worldwide, 50% more than the same period in 2018. Exported brandy income amounted to $27,4 million (growth 62%).
Also, 238 thousand bottles of Chacha was exported to 23 countries worldwide, a growth amounting to 34%. Exported Chacha income amounted to $633200.