49,500 Russian tourists leave Georgia amid activated ban on flights
By Gvantsa Gabekhadze
Tuesday, July 9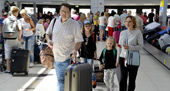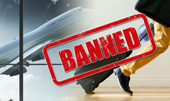 49,500 Russian tourists have decided to leave Georgia and follow the instructions of the Russian government amid the tension between the two countries, sparked after forcing out of Russian MPs from Tbilisi on June 20.
Russian state agencies say that as of now 4,500 Russian tourists still remain in Georgia, or decided to leave the country by alternative transports, not via planes.
The Russian authorities say that they will help their citizens leave Georgia with the use of the aviation of neighboring countries.
An estimated loss the Russian aviation will suffer from the flight ban to Georgia, which came into play today, is more than 47 million USD.
The Russian government continues to say that unrest in Georgia still continues and Russian citizens may face threats while in the country.
They claim that the "Russophobic" hysteria is still active in Georgia and until the mood is retained the flight ban will not be removed.
Russia has also strengthened control on the Georgian imported products [wine, mineral waters and others] and said that the removal of the visa regime with Georgia, "which was on the agenda," has been postponed.
"What we have done [the ban on flights] was not a sanction, it was an adequate response," Russian Deputy FM Gregory Karasin says.
Russian MPs were forced to leave Tbilisi after one of them, Sergey Gavrilov, took the seat of the Georgian parliamentary speaker on June 20 to address the audience gathered for the Interparliamentary Assembly on Orthodoxy.
Gavrilov is the president of the assembly.
Georgians were irritated as the MP from the occupant country was allowed to take the high tribune in the Georgian parliament.
The rallies ended up with the resignation of the Georgia parliamentary speaker and change of the country's electoral system.
Georgia has launched a #SpendSummerInGeorgia campaign to attract more tourists to fill the gap opened by the absence of the Russian ones.
In the case the gap is not filled, Georgia will suffer 200-300 million USD loss, the Georgian National Bank says.