Regulatory Commission Head: Increased electricity import is a serious challenge
By Tea Mariamidze
Tuesday, July 16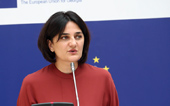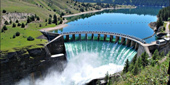 Georgian National Energy and Communications Regulatory Commission (GNERC) Head, Irina Milorava says that increased electricity import during the last years is a serious challenge because it means the country is dependent on imports.
Milorava noted that in 2017 and 2018, the electricity import was tripled in Georgia compared to 2016.
"If in 2016 approximately 500 million kilowatts/hour electricity was imported from neighboring countries, in the last two years it became 1.5 billion kilowatts/hours which means import-dependency. It is a serious problem for energy security because we depend on the energy of neighboring countries," she said.
The GNERC Head explains that in the countries with import-dependency if there occurs a severe breakdown, the country might be left without electricity.
"These imported 1.5 billion kilowatts/ hour of electricity amounts to 11% of Georgia's resources, but we increase import in winter, which means that in critical months – January, February, and March – the import-dependency increases to 25-30%," she stressed.
Irina Milorava says that such kind of a challenge needs a proper response.
To note, according to the electricity market operator data, in January-May 2019, Georgia imported 614.101 million kWh of electricity, which is 4.8% more than the same period of last year (585.959 million kWh).
Earlier this month Georgia's Ministry of Economy and Sustainable Development stated the country could not meet the increased demand on electricity in the future if new power plants are not built.
The ministry said building new HPPs would even out the imbalance between power consumption and generation, which is usually balanced with imports of electricity.
Electric power consumption in Georgia is characterized by seasonality-the consumption rate reaches its peak in winter which indicates that power in this period is largely consumed for household and domestic use.
The demand is met with hydropower plant and thermal power plant-generated electricity and imported energy. Usually, the largest energy importers are Russia and Azerbaijan. Relatively less electricity is imported from Armenia.
As for the number of power plants in the country, as of March 2019, there are 93 power plants with the total installed capacity of 4207.17 MW.
Out of 93 power plants, 87 are hydropower plants with total installed capacity - 3260.07 MW, 5 are thermal power plant (927.40 MW capacity) and 1 wind power plant (installed capacity - 20.70 MW).
Consumption of commercial and household demand on electricity in Georgia increases by around 5% annually.
Many studies confirm that the demand for electricity in Georgia will soon reach 21-22 billion kilowatts/ hour, which is approximately 9-10 billion kW / h more than generated in the country nowadays.
If the slow pace of building HPPs is not accelerated, some believe that Georgia will have to import around 12 billion kilowatts/ hour electricity from the neighboring countries in 2022.