Batumi celebrates International Seafarers Day
By Nika Gamtsemlidze
Tuesday, July 16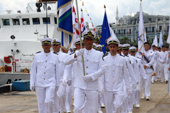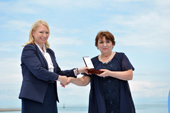 Batumi hosted the celebration of the International Seafarers Day. The event was attended by the Minister of Economy and Sustainable Development, Natia Turnava, Director of LEPL Maritime Transport Agency, Tamara Ioseliani, Chairman of the Government of Adjara, Tornike Rizhvadze and other officials.
In her welcoming speech, Minister of Economy congratulated the professional day to Georgian sailors and thanked them for their contribution to the development of the country and its economy.
"You are representatives of one of the hardest professions, high-ranking professionals, you represent a very rare profession, that has the opportunity to employ Georgian people abroad legally. We are glad that great professionals raised by our schools have a chance of working abroad, and they represent very highly demanded professionals," noted Turnava.
According to the Minister of Economy, Georgian sailors have the right to swim on ships sailing under the flag of 50 countries, 20 of them representing European nations, "and this is something that we want to see in every other profession."
As Turnava said, sailors bring "200 million every year to strengthen Georgian Economy." Minister also expressed her gratitude towards the professors who are providing proper education to the younger generation.
"In the field of sailing in Georgia, the education system is more than 150 years old. Today, three schools are making a great contribution to the success of our sailors. We will do our utmost to enhance these schools more attractive, more interesting, and more affordable for your upbringing so that more sailors will add to our ranks. As of today, there are more than 14 thousand sailors, who are popularizing Georgia abroad, we need to everything so that the number, at least triples," said Turnava during her speech.
The Minister also talked about this year's campaign, More Women On Board and noted that as a female member of the Government, "I strongly support the development and employment of women in this field."
After the official statements, the award ceremony was held. Minister of Economy awarded Natia Labadze and Luiza Tsverava with the Medal of Honor, also captains Iuri Kadaria and Imerlishvili for their contributions, as well as a mechanical engineer, Iuri Koridze.
At the end of the event, attendees honored those who have died while serving their duty.