ADB approves $415 million loan to improve Georgia's north-south road corridor
By Natalia Kochiashvili
Friday, August 2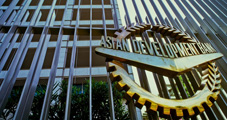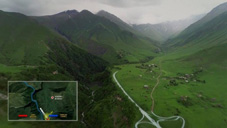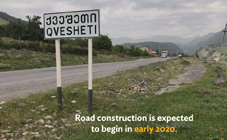 The Asian Development Bank (ADB) has approved a $415 million loan to Georgia to build a new highway as part of a wider government program in order to improve the country's transport network and enhance Georgia as a regional trade and tourism hub.
The Kvesheti–Kobi Road Project is the first in a series of upgrades planned for the North-South Corridor, which is a vital transit route for Georgia, Armenia, and regional trading partners. The corridor also intersects with the East-West Highway to the north of Tbilisi, the capital, providing access to the shortest link connecting Central Asia with Europe and East Asia.
The 23km bypass will be built between the towns of Kvesheti and Kobi and pass through the Caucasus Mountains. The bypass will include engineering features such as Georgia's longest tunnel of 9 km and its most advanced arch bridge spanning the Khadistskali River.
As of today, the 3,500 vehicles that use the existing 35km road daily face high accident risks and road closures of more than 40 days per winter. The new road is faster and safer. It's also noteworthy that traffic numbers are expected to double over the next 10 years.
As stated by ADB Director General for Central and West Asia, Werner Liepach:" A high-quality road network is essential for the growth and development of Georgia, which is located at the center of transit and trade routes linking Europe and Asia." According to him new bypass road will greatly improve the North-South Corridor and help enhance trade and regional connectivity, as well as increase the number of visitors in the region, which is home to world-class natural and cultural heritage assets.
Total transit trade along the North-South Corridor in 2015 amounted to 1.3 million tons of freight or 12% of Georgia's total transit trade. Meanwhile, tourism accounts for around 7% of Georgia's gross domestic product, with the North-South Corridor towns of Gudauri and Stepantsminda among the country's prime destinations. By diverting freight trucks away from Gudauri via the bypass, the Kvesheti–Kobi Road Project is thought to contribute vital infrastructure for Gudauri to become an internationally-recognized winter resort.
The project is estimated to cost $558.6 million, with co-financing of $60 million anticipated from the European Bank for Reconstruction and Development (EBRD) and $83.6 million from the Government of Georgia. The road has been designed to European standards and will be single lane each way plus an additional climbing lane uphill for heavy vehicles. To overcome difficult terrain challenges in the Caucasus Mountains, it will require 5 tunnels at a total length of 11 km and 6 bridges at a full length of 1.6 km.
During project preparation, the Roads Department of Georgia, ADB, and EBRD conducted extensive assessments and consultations with local communities, civil society organizations, and other project stakeholders. Informed by consultations with local residents, the bypass will be complemented by around 5 km of access roads to connect remote communities in the Khada Valley, which are currently snowbound during winter. The project will also establish a multipurpose visitor center as a hub for tourism activities and to enhance women's access to economic opportunities.
"The bypass and connecting roads will provide these communities with year-round access to hospitals, schools, and other vital services," said ADB Transport Specialist for Central and West Asia Mr. Kamel Bouhmad.
Road construction is expected to begin in 2020.