TV Pirveli owner questioned by City Court
By Natalia Kochiashvili
Friday, August 9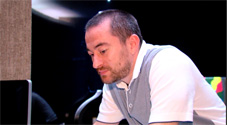 Vakhtang Tsereteli, the founder of TV Pirveli, was interviewed at the Tbilisi City Court, where he was summoned to the case of TBC Group founders Mamuka Khazaradze and Badri Japaridze.
"I tried to ask one question, I was wondering who was the victim or the complainant in the case, but I could not get an answer, and the judge stopped me and told me that I had no right to ask questions. This case has neither an injured party nor a complainant," said Vakhtang Tsereteli.
He said he was asked about the internal details of a transaction from 11 years ago that he didn't know about.
According to Prosecutor Archil Tkeshelashvili, the investigation had legitimate questions with Tsereteli, who owned the shares of "Samgori M" and "Samgori Trade" 11 years ago. These companies are listed in 'Khazaradze-Japaridze's case.
When asked, whether he the 'prosecution's version that the 17-million loan issued to companies "Samgori M" and "Samgori trade" was given away to Mamuka khazaradze and Badri Japaridze, that was later written off, Tsereteli says: "I am not going to discuss court issues, my lawyer will address them. This is total idiocy, in my opinion."
Avtandil Tsereteli, the owner of Samgori Trade and Samgori M, was questioned by the Prosecutor's Office in March 2019.
Vakhtang Tsereteli was summoned to the 'Prosecutor's Office two days ago. He wrote about it on his personal page on the social network, saying that he would answer to any question only in the presence of a judge, warning, that he wouldn't let anyone gain influence over his television.
Opposition assesses summoning of TV Pirveli owner for questioning by authorities as targeted pressure on media. The ruling team is calling on opponents to refrain from preliminary assessments and wait for the results of the investigation.
The Office of the Chief Prosecutor announced in January 2019 that it had withdrawn the documents from the TBC Bank investigation. According to the agency, in April and May 2008, Samgori Trade LLC and Samgori M Ltd received a loan of up to $ 17 million from TBC Bank without proper collateral and on accelerated terms.
Khazaradze explained that Avtandil 'Tsereteli's companies had 35 million credit lines opened in TBC in 2007 and could easily get money from the bank by making only one call with their credit officer.
"In 2012, TBC Bank completely exempted the aforementioned companies from the bank's debt obligations, which was carried out as follows: TBC Bank replaced businesses, owners of which had close relations with Khazaradze, with the company that had been registered in an offshore zone one month earlier and which had no financial assets in Georgia," said the prosecutor's office.
According to the Prosecutor's Office, Paata Ghadzadze was an offshore trustee who was a member of TBC 'Bank's Credit Committee when lending to Samgori M and Samgori Trade and was one of TBC 'Bank's clients when replacing them with an offshore company.