Looking back at main initiatives of Mamuka Bakhtadze
By Inga Kakulia
Tuesday, September 3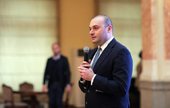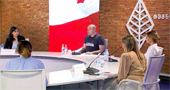 Prime Minister of Georgia, Mamuka Bakhtadze officially resigned on September 2nd announcing it through social media.
In his statement, Bakhtadze notes that he fulfilled his main mission while serving as the Prime Minister of Georgia, so it was time to leave the post.
Bakhtadze held the position of Minister of Finance prior to his premiership. Specifically, from November 2017 until June 2018, he led the Ministry of Finance and the entire government team since June of last year.
Since joining the government's economy team, Bakhtadze has introduced a number of initiatives to the public. Some of the most prominent one being Debt settlement. During Bakhtadze's premiership, the so-called Debt Collection Program was put in action.
This initiative was voiced by the Prime Minister, as a result of which 615,164 citizens of Georgia, who were blacklisted by banks and other financial organizations, had their debts reduced. Total debt amounted to 4 104 429 484 GEL.
Bakhtadze also took part in several legislative changes in the banking and finance sector during his tenure as finance minister. Including the maximum annual effective interest rate on the loan, which was 100%, reduced to 50%. Also, some regulations regarding pawns were initiated by the Ministry of Finance. Among them, pawn shops were banned from taking home and car guarantees. Bakhtadze also introduced structural changes, decreasing the number of ministries from 14 to 11.
As for economic indicators, Georgia's economy grew by 4.7% in 2018. There was a significant decrease in foreign investment. Specifically, the amount of FDI in Georgia amounted to USD 1 265.2 million in 2018, which is 35.5 percent less than in 2017. The sharp decline in investment remains one of the reasons for the government's criticism. The most criticism of Bakhtadze and his team was because of the decline of the GEL. Especially this year, when the Lari surpassed the 2.91 marks for the first time in its history. The official value of one US dollar reached 2.9718 GEL this summer.
While talking with the media representatives Bakhtadze mentioned that Georgia politics was the "last place" he imagined himself in but reiterated that he would be staying in the Georgian Dream Party. Mr. Bakhtadze refused to talk about his potential replacements, thanked his predecessors and wished success to the future Prime Minister.