Minister of Economy of Georgia meets with Deputy Minister of Economy of Germany, Thomas Bareiss
By Nika Gamtsemlidze
Tuesday, October 8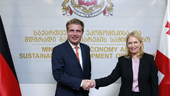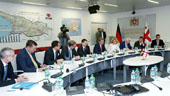 Natia Turnava, the Minister of Economy and Sustainable Development met with Parliamentary State Secretary at the Federal Ministry for Economic Affairs and Energy of Germany, Thomas Bareiss. The meeting was held in the framework of the visit of German President, Frank-Walter Steinmeier.
The sides discussed bilateral trade-economic relations and priority directions of future cooperation.
Minister of Economy and Sustainable Development particularly emphasized the role of German development organizations – the German Bank for Reconstruction and Development (KfW), German Society for International Cooperation (GIZ) and other German institutions in enhancing bilateral cooperation.
Turnava particularly focused on the initiative voiced by German Chancellor Angela Merkel last year to establish a regular business roundtable with the participation of business representatives from the two countries. According to the Minister, 4 business forums must have been held between Georgia and Germany over the past two years, covering topics such as logistics and infrastructure, communications, construction, agriculture, food industry, and others.
It was noted at the meeting that Germany is one of Georgia's largest trading partners. According to the statistics of 2018, Germany ranks 8th among the largest trading partner countries. During the mentioned period, the trade turnover between the two countries amounted to 482 million USD. As for the 8 months of 2019, Germany is still in the top ten of the main trading partners and still in 8th place, with a trade turnover of 318 million USD.
It was also noted that Germany is one of Georgia's major investment partners, which is also supported by the fact that there are over 250 companies created by German investment in the country.
The sides also discussed the opportunities Georgia has in the Deep and Comprehensive Free Trade Agreement with the EU. It was noted that the agreement, both bilateral and with the European Union as a whole, made trade and investment relations even more attractive and brought them to a higher level.
The parties expressed their readiness for further cooperation and expressed hope that the deepening of economic ties between the two countries would greatly contribute to the development of business relations between Georgia and Germany.
The German President's official visit to Georgia started on October 6 and will leave the country on October 8. During his visit, the President already met with the President of Georgia, Prime Minister of the country and plans to meet with the Speaker of the Georgian Parliament, Archil Talakvadze. Also, during his official visit, Mr. Steinmeier will visit a memorial of Heroes Fallen for Georgia's Integrity. He also plans to meet Georgian business representatives and visit wineries in the region of Kakheti.