The Minister of Economy to deliver a speech at the "Silk Road Forum"
By Tsotne Pataraia
Thursday, October 24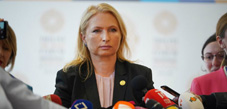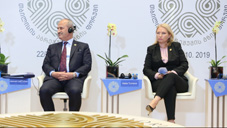 The Minister of Economy and Sustainable Development of Georgia Natia Turnava delivered a speech at the Silk Road Forum. She discussed various topical issues of the country's economy and summed up the current situation
According to Turnava, overall, Georgia's economy is proving resilient to serious economic and financial shocks, thus it might be a good place to invest:
"In terms of the latest IMF reporters, we are growing by 5%, on average, over the next 5 years, which is a very impressive and stable, good indicator, a good message to the global investor community that Georgia is a good place to invest. But even more important is that our policies are not focused just on economic growth, not only the pace of growth but the quality of growth is also important. It must be inclusive, create additional employment opportunities," said Turnava.
The Minister thinks that to make Georgia more attractive for FDI, stability and predictability are one of the important factors:
"Georgia does not have a large supply of mineral resources. We represent a small market and, of course, to be more attractive, our business model, our business climate, vision, and policies are all based on openness and preference for FDI. Achieving stability, predictability and macroeconomic stability is also important," Turnava explained.
Natia turnava also touched upon government's strategy of economic modernization, emphasizing the importance of renewable energy:
"We urge businesses to invest in renewable energy such as wind and solar…Georgia is rich with water but a fast-growing economy leads to an increase in electricity consumption. This is a challenge, more hydropower plants should be built, which will open new opportunities for business, and in this sense, we are very happy to see the growing trends of investments in small and medium-sized renewable energy plant construction in addition to hydropower stations," said Turnava.
As a response to the question about the priority areas of business in Georgia in terms of investment, the Minister of Economy noted that logistics and transport services are a priority. According to the Minister, besides the aforementioned directions, Georgia also has a well-developed tourism sector. She also emphasized the importance of production and said that Georgia has the prospect of becoming crossroads in this regard as it has a free trade agreement with various countries.
Structural reforms will allow us to involve more private businesses in large-scale infrastructure projects, said Turnava during the Silk Road Forum.
On the panel "Investments for Success" Turnava spoke about the reforms implemented in Georgia and noted why these reforms will be supported and pointed out the fields of science, labor market, capital market development:
"I would like to highlight some important areas of reform. The first is education reform, which is the basis for long-term economic growth. We have the ambition to move forward in terms of knowledge and innovation economics. I would also like to highlight that we have structural problems in the labor market and need to work towards vocational education to overcome the barriers in the rapidly growing sectors of the economy. Besides, structural reforms such as pension reform, capital market development, full-scale public-private partnership schemes. These directions will allow us to engage more privately in large-scale infrastructure projects, this is a risk-sharing mechanism for public and private partners to increase savings, productivity, which is the key to further economic growth," noted Turnava.
The Minister of Economy also noted that along with reforms, the state is focusing on the development of small and medium-sized enterprises:
"We have one of the best benchmarks in the World Bank's rankings on the ease of doing business, but that should always be achieved. Alongside these reforms, the Government of Georgia pays great attention to the development of small and medium-sized enterprises, increasing competition. We want to support such enterprises become more global, more innovative, more competitive, to create a quality assurance system that meets European standards. We are building an open economy market where the private sector dominates," stated Turnava.
The "Tbilisi Silk Road Forum" took place on 22-23 October in Tbilisi. According to its organizers the mission of the forum is to serve as an international platform for multilateral high-level dialogue among senior policymakers, businesses and community leaders to discuss important issues on trade and connectivity, examine challenges facing countries along the New Silk Road connecting East and West, and find common solutions that have a positive impact on the region and the global economy.