First public discussion of Tskaltubo Resort development held at Radisson Hotel
By Nika Gamtsemlidze
Tuesday, November 12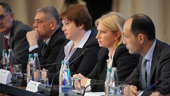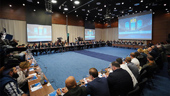 Natia Turnava, the Minister of Economy and Sustainable Development introduced the main directions of the Tskaltubo Resort Development Plan to the public.
The public discussion of the Tskaltubo Development Plan was held at the Radisson Hotel, which was attended by Vice Prime Minister, Minister of Regional Development and Infrastructure Maia Tskitishvili and the Minister Environmental Protection and Agriculture of Georgia, Levan Davitashvili.
Architects, urbanists, NGOs, associations, as well as representatives of businesses, local municipalities, the Parliament of Georgia and the Government participated in the public discussion of the Tskaltubo Development Plan.
Natia Turnava introduced six main directions of Tskaltubo development, which the government will be working on: Preparation of the General Plan of Tskaltubo Resort; Resort Infrastructure Development - Infrastructure Projects; Offer decent housing to IDPs living in the Tskaltubo area, former sanatoriums or other buildings; Unified administration of the resort, unified management of this process; Preparation and implementation of multi-year marketing plan.
As for the preparation of the Integrated Development Plan and its approval as a General Plan, the Minister of Economy and Sustainable Development stated that it would be compulsory for all parties involved in the project.
"After Bidzina Ivanishvili's proposal, it became particularly urgent for Tskaltubo to develop not as separate chaotic initiatives but as a unified, planned complex, where every investor will know exactly how, in what form, this whole resort is going to develop," said Turnava.
Also, the minister reminded the public that originally, Tskaltubo was planned as a spa resort. "The first plan for its development was written over a hundred years ago, but in the end, we have not yet come up with such a unified strategy in the form of a plan," said the Minister of Economy and Sustainable Development.
According to Turnava, within the framework of the Tskaltubo Development Project, taking into account all direct and indirect activities, more than 20,000 jobs will be created. "Our task is to have the resort already operational by 2024," the minister said.
According to Minister, the private sector should also be present in the development of the resort. As she said, such meetings will continue in the future with representatives of the private sector.
According to Maia Tskitishvili, Tskaltubo's investment potential will be clarified in more detail after the master plan for the resort is developed. She added that IDPs living in Tskaltubo sanatoriums will be fully satisfied with new houses by 2021.
"We are already building homes for little more than 700 families, the completion of which is planned for this year and next year. We won't leave this problem to the private sector," noted Tskitishvili.
The statements regarding Bidzina Ivanishvili 'reviving' the Tskaltubo resort was published by the press office of the Georgian Dream a few weeks ago. As Ivanishvili said, he plans to buy and restore all 22 Sanatoriums and 9 baths and cover expenses from his funds.