Two years in office, Kaladze chairs another meeting of the Tbilisi government
By Tsotne Pataraia
Thursday, November 14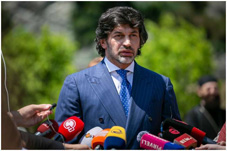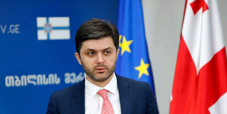 Tbilisi Mayor Kakha Kaladze held another meeting of the government of Tbilisi. During the meeting, the main focus was on staff changes, infrastructure projects and housing.
According to Kakha Kaladze, he started performing his duties exactly two years ago on November 13. He thanked the residents of the capital for their support:
"Today is November 13. Two years have passed since most of you gave us the chance to lead the city. First of all, I would like to thank all of you for the support that my staff and I see daily. Of course, this gives us extra motivation to serve our city," said Kaladze.
Kaladze also noted that there are still many problems in the city:
"We are facing serious challenges. There are problems that have been accumulating for years. Every day, every hour, every minute of our actions, is aimed at ensuring that tomorrow's Tbilisi is well-run, with good city infrastructure, a lot of green spaces, well-managed public transport and, most importantly, a safe environment, "the mayor stated.
Kakha Kaladze also talked about personnel changes at Tbilisi City Hall. As the mayor of the capital stated, Levan Jgharkava will head the Municipal Inspection of Tbilisi, who previously held the position of head of "Tbilservice Group". As for "Tbilservice Group", Kaladze nominated Romeo Mikautadze as its director. Mikautadze served as Deputy Minister of Economy, having most recently holding the post of the Director of "Energotrans."
The city mayor also touched upon a housing project to legalize living spaces in Tbilisi. According to the decision of the municipality government, 45 more families will be given houses for symbolic prices:
"I know very well how much joy and happiness it is. We meet these people and give them living spaces that they have been waiting for years," said Kaladze.
Kaladze also spoke about public transport, buses in particular. According to him, Tbilisi City Hall will announce a tender on the purchase of 100 new buses in the coming days, which are expected to be 8-meter long. As Kaladze noted, the bus stop time will be reduced after the bus park is renovated. According to Tbilisi City Hall, the complete replacement of 650 buses will be completed in the first half of next year.
After the meeting, Tbilisi Vice Mayor Irakli Khmaladze announced another news, according to which the Tbilisi City Hall 2020 budget will be 1 billion 300 million GEL. As he said, the main direction on which these funds will be spent is to renovate the public transport system:
"At the first stage, we are presenting a budget project of 1 billion 20 million, adding to this the transitional balances of 1 billion to 100 million plus the cost of the 200 buses to be purchased with the EBRD, equivalent to 65 million euros in GEL, which is 200 million in total. The total budget for the projects to be implemented in Tbilisi by 2020 will be GEL 1 billion 300 million, which is an unprecedented figure. Of these, up to 50% are current costs, up to 500-600 million directed to infrastructure. Expenditure on health and social care is not diminishing and is projected at around GEL 338 million. Unlike this year, it has increased by 2 million GEL," said Khmaladze.
Khmaladze added that the City Hall will carry on to implement infrastructure projects. In particular, the City Hall plans to rehabilitate several major avenues next year. Rehabilitation of historic buildings and collapsed buildings will also be continued.
Tbilisi City Hall has not yet submitted the draft budget for 2020 to the City Council.