Removing Obstacles for Gender Equality and Women's Economic Empowerment
By Mariam Chanishvili
Tuesday, November 19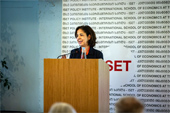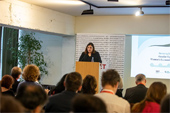 The FREE Network - Forum for Research On Eastern Europe and Emerging Economies - and the International School of Economics at TSU (ISET) and its Policy Institute, hosted an international conference on gender economics entitled: "Removing Obstacles to Gender Equality and Women's Economic Empowerment".
The purpose of the conference was to bring together researchers, policy makers, representatives of international, governmental and non-governmental organizations and the general public interested in development to discuss ways and strategies for addressing barriers to gender equality and women's economic empowerment.
The discussion focused on the Eastern European region and emerging economies. The Minister of Economy and Sustainable Development of Georgia, Natia Turnava, Ambassador of the Kingdom of Sweden to Georgia, Ulrik Tideström, The Rector of Tbilisi State University, Giorgi Sharvashidze and the Director of ISET and Research Institute, Tamar Sulukhia.
"Georgia has made significant progress in attaining gender equality, but much work remains to be done; 11% of potential GDP is lost due to the fact that not all women of working age participating in the economy" Ekaterine Mikabadze, Deputy Minister of Economy and Sustainable Development of Georgia outlined the Georgian situation at the International Conference.
Keynote speakers included Caren Grown, Senior Director for Gender at the World Bank Group, Washington D.C. and Shahra Razavi, who joined UN Women, HQ New York City as Chief of Research and Data. Shahra is the author of more than 40 refereed journal articles and chapters in edited volumes. She holds a Bachelor of Science from the London School of Economics (LSE) and a Masters and PhD from Oxford University.
"Although gender issues are affected by society and culture, global coordination is needed to reduce loopholes that can be barriers to equality," Shahra Razavi, Chief of Research and Data of UN Women said.
The conference was organized as part of the FROGEE initiative - the Forum for Research on Gender Economics - supported by the Swedish International Development Agency (SIDA) and coordinated by the Stockholm Institute of Transition Economics (SITE).