JSC Georgian State Electrosystem and JSC UES Sakrusenergo present early reports
By Nika Gamtsemlidze
Monday, December 9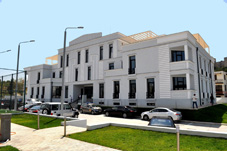 The hearings of the yearly reports of JSC Georgian State Electrosystem (GSE) and JSC UES Sakrusenergo were held a few days ago.
Ucha Uchaneishvili, Chairman of the Board of Directors of the Company presented the summary report of the GSE. The company manager reviewed work during 2019 on strengthening the internal network and joining the new generation grid, which made Georgia's power network more reliable and stable.
Uchaneishvili also spoke about plans, the support of international donor organizations, after which Georgia will be able to respond to the domestic energy resource with significant challenges posed by increased electricity rates. The Chairman said it is crucial to increase the capacity of regional infrastructure to reduce the country's dependence on imported resources and enable the export of electricity produced in Georgia.
It was also noted that the company will make an operating profit in 2019. Similar results have been achieved by another large state-owned power company, Sakrusenergo, which owns and operates 500, 330 and 220 kV transmission lines, including the power grid lines connecting Russia, Azerbaijan and Turkey.
According to Sachrusenergo CEO Bachana Suladze, it is noteworthy that in 2018-2019, the company's electricity transmission infrastructure was functioning properly, so there was no emergency shutdown of the system during this period.
Suladze noted that the financial indicators enable the company to implement projects from the 10-year plan of development of the Georgian transmission network, which is important for the sustainability and reliability of the Georgian power system as well as for the company's development.
The Minister of Economy and Sustainable Development, Natia Turnava attended the presentations. She talked about the importance of the power transmission networks and noted that its sustainability is crucial to Georgia's uninterrupted power supply.
"Therefore, it is very important to note that both companies - State Electricity System and Sakrusenergo - are financially sustainable structures today. Both companies ended 2019 with operating profit, which is a good example for other state companies," noted Turnava.
JSC Georgian State Electrosystem (GSE) is an electricity transmission system operator. The company owns and operates 3,350 km transmission lines and 90 substations all over the country. The transmission network is managed by the National Dispatch Center and its technical maintenance is provided by the 3 regional networks (East, West and Kakheti). GSE also manages the cross-border transmission lines interconnecting with the neighboring countries: Russia, Turkey, Armenia and Azerbaijan.
JSC UES Sakrusenergo was founded in 1996 on the basis of a joint decision of the Georgian government and the Unified Energy System of Russia. The shareholders of the JSC are the Georgian State, represented with the Georgian Ministry of Economy and Sustainable Development and JSC Federal Grid Company of Unified Energy System of Russia (FGS UES).