Delegation of German Bundestag selects participants for International Parliamentary Scholarship
By Levan Abramishvili
Monday, December 9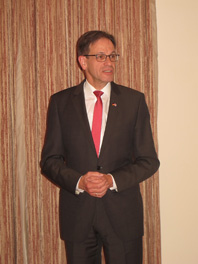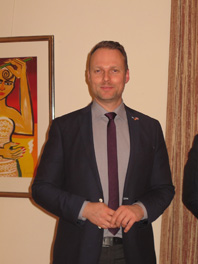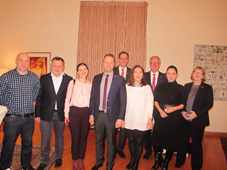 The Ambassador of Germany to Georgia H.E. Hubert Knirsh held a reception to welcome the delegation of German Bundestag, which selected Georgian candidates for the International Parliamentary Scholarship.
"Once every year, the Bundestag delegation comes to select candidates for IPS, International Parliamentary Scholarship. We know that people in Georgia wait for this moment eagerly, there were a great number of candidates and delegation spent their day in diligent work examining the candidates," said the Ambassador.
With the fully-funded scholarship, 120 scholars from 44 countries will be able to get to know the German parliamentary system in the German Bundestag from the beginning of March to the end of July 2020.
The program aims to make the political life and democratic decision-making processes accessible for the scholarship holders. The fellows will work in one of the Bundestag MP's bureaus and will be able to attend lectures at one of Berlin's universities.
A member of the German Bundestag Mr. Kai Gehring spoke about Georgia and the excellent candidates that applied for the scholarship this year.
"My curiosity arose last year when Georgia was a guest of honor at the Frankfurt Book Fair 2018. This country became known to me as one with great challenges, but also huge optimism, which sees its future in Europe," said Mr. Gehring.
The reception was also attended by the alumni of IPS, consisting of over 70 members, as well as the scholarship-holders that were selected this year.
The delegation also met with the Vice Speaker of the Georgian Parliament Giorgi Kakhiani and the Secretary-General, Givi Mikanadze. Aside from IPS, the sides discussed various opportunities for strengthening cooperation between the two countries and thanked the delegation members for Germany's continued support of Georgia's European aspirations.
"Representatives of the Bundestag were interested in the political situation in Georgia. We introduced our visions on electoral matters and expressed our utmost commitment to hold the follow-up elections in a free and fair environment," said the Vice-Speaker after the meeting.
The program is supported by the President of the Bundestag is Wolfgang Schauble and is carried out with three universities in Berlin. The German Bundestag covers the airfare, lodging, insurance and daily expenses of the scholarship holders.